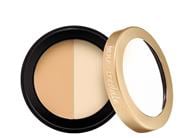 Reviews For
jane iredale Circle\Delete Concealer
$30.00
140 Results
Best For Dark Circles
By far the best product out there for dark circle concealer. I also use the lighter color as a base for my eyelids, so this product serves multiple purposes for me. LovelySkin Customer
Verified Purchase
Super after application, not so great mid-day
At first I was in absolute love! The concept, the product, looks fabulous right after application- all seemed to be going well until I hit the restroom at work halfway through the day. The horror! The skin under my eyes had dried up so badly. How? Avocado oil y'all!?!?!! White flaking is not better than bags so I had to wash under my eyes and return to my desk sans any makeup under the eye :( Perhaps it was just me, I do tend to get drier under the eye idk but sadly I won't order again. ProductAddict40
Verified Purchase
Long time fan of this product
I'm 49 and recently tried a few other under eye concealers that one of my favorite bloggers recommended and after making those mistakes, I have come back to Jane Iredale Circle/Delete. My under eye circles are bluish purple and the yellowish shade works great for me. It blends in well with my skin and doesn't sink into wrinkles. This product doesn't get patchy like other under eye concealers can do sometimes. Big fan of this product! GardenGal
Verified Purchase
Jane Iredale concealer - Whims
I have deep set Eyes and in my mid 60s tried lots of brands I like this because I have fair skin and this helps to cover the blue veins under my eyes and then I use my makeup to finish up the area and it works nicely - I do put a extra moisture under the area first and let it blend in before applying the concealer ;) Great Concealer
Love this concealer. It's not oily and really helps with my under eye circles! Disappointed
In hindsight, I wish that I had ordered the #2 Peach concealer instead of the #1 concealer. I did email asking about the differences but didn't get a clear cut answer, at least in my mind. I went with the #1 since I am fair skinned but I'm not using it because it just doesn't work for me. LovelySkin Customer
Verified Purchase
Easy Concealer
I was concerned that blending two shades would be difficult but Circle/Delete #1 works on light skin and seems full proof. I use the light shade on my eyelids up to brow line to hide tiny veins. It looks sheer and soft. I blend a little of both shades for under my eyes. It feels silky and disappears. LovelySkin Customer
Verified Purchase
Circle/Delete concealer #1
I've been using J.I. concealer for years...NOTHING compares to the great coverage and I've tried many. The avocado oil in it makes it very easy to apply and moisturizing. Just make sure you get a good application brush, it makes a big difference and is less wasteful. I have Med. skin tone (tan) and use the #1 combo color which I mix the two with. Covers dark under eye circles and brightens the eye area...love this stuff! LovelySkin Customer
Verified Purchase
Wanted to love this...
After trying many concealers over the years I really wanted to love this. Sad to say it settles into my fine lines. I've tried to vary the amount of product I use but it does not seem to make a difference. Setting it with a teeny amount of powder did not help either. More than likely, I will not repurchase but plan on continuing to use mine with different brushes to see if it makes a difference. Teresa1955
Verified Purchase
jane iredale circle/delete concealor
Really like this product especially the fact that there are two colors. That's all you need irishrose2
Verified Purchase
Happy!
Wanted to try a new concealer and this is going on my favorites list. Covers under the eye but does not crease. fiveone5
Verified Purchase
concealer
I've tried many different concealers and this one is the best. I use the ligher color 1st, then the darker color under my eye area. I purchased option 1. IT WORKS!
This concealer really works on concealing the dark circles and what's best is that this brand is cruelty free, and full of amazing ingredients for your face health. Not containing harsh chemicals that other cosmetics do. I think it's worth it. LovelySkin Customer
Verified Purchase
Concealer Jane Airedale
Works great!! Have purchased before. LovelySkin Customer
Verified Purchase
Jane iredale circle/delete concealer
Great coverage! Third time I have bought this concealer. Great under eye concealer! LovelySkin Customer
Verified Purchase
Good and Bad
This concealer covers pretty well while looking natural, but I suspect it is reacting with my eye serum or another product and causing irritation. Usually, I tolerate Jane Iredale products well, so I hope to be able to determine the cause of the discomfort. DixieDiva
Verified Purchase
Current favorite undereye concealer
I say current, because, you know, always in search of the perfect concealer. But, I do really like this one. I use Circle/Delete 2, and mostly use the peach color alone. I think it has nice coverage, although I don't have really dark circles, it lasts and doesn't cake. I have layered the lighter color over the top, but I don't think it really looks better that way. So I would actually like to be able to get just the peach color. It doesn't irritate my sensitive eyes. Easy to use
I really like this product. I don't use it everyday, just when I feel my under eyes look tired. The product goes on easy and lasts all day. I really like the two shades as then I can choose which looks best on me based on the time of year. LovelySkin Customer
Verified Purchase
Hooked for life
I've been using this eye product for years. It's my go to in my makeup regimen. I love it, and I'm hooked for life. It stays on all day. I use contacts and sometimes have to apply eye drops. This concealer stays on! LovelySkin Customer
Verified Purchase
Great Concealer
I love this concealer because you can create your perfect blend and cover-up. It does a great job of hiding dark circles. Powder does collect in the crease under your bottom eyelid so just be mindful of that. Otherwise a great product! LovelySkin Customer
Verified Purchase
Great concealer
Superior concealer, goes on flawless and product does not dry out. LovelySkin Customer
Verified Purchase
Wonderful
I am 64 years old and have a few brown spots on my face. I use the darker shade on the spots prior to putting on my foundation. The coverage lasts all day. I use the lighter shad under my eyes. I am very pleased with the results. LovelySkin Customer
Verified Purchase
Jane Iredale Circle/Delete Concealer
I have tried many concealer products over the years, and I am here to tell you that this combination of two colors definitely does the trick. It stays on all day, and I don't have to worry about my dark circles showing up during the day. For some reason, the lighter color is used up before the darker one. I use the remainder product to touch up any imperfections I see on my face so nothing goes to waste. I will continue to buy it until something better comes on the market. LovelySkin Customer
Verified Purchase
Excellent concealer
I have very fair skin and I have very dry skin around my eyes. This concealer is the perfect color mix to match my skin tone and emollient enough not to crease under my eyes. It lasts a long time after application and requires little powder to set. I would recommend this product, especially to mature women with dry skin. LovelySkin Customer
Verified Purchase
Just eh
I bought this product based on all the positive reviews. However, I did not find this concealer to work all that great. LovelySkin Customer
Verified Purchase