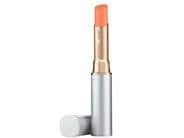 Reviews For
jane iredale Just Kissed Lip and Cheek Stain
$28.00
163 Results
Love this!
I've bought both the Forever Pink and Forever Peach and they both look great. I use this on my lips and cheeks. I even put it on my eyelids and with a little mascara, it's the only makeup you need. It's very natural looking, and really does compliment your skin. GracieBee
Verified Purchase
Too orange
Bought the pink. Don't like as it makes my lips look orange. LovelySkin Customer
Verified Purchase
Balm vs. Tint
On my lips this is a moisturizing balm without staying power and not a tint. It has a fruity fragrance that I do not like. I like products with little to no fragrance, so I will continue to look for a non drying lip tint and a fragrance free balm. LovelySkin Customer
Verified Purchase
Disappointed
I had wanted to try this product for ages as I use a few others. The color was nice however the tube did not work properly and smash the end of the lip stick. It is not really usable now, unless of course I spread it with my fingers.. disappointed purchase .. LovelySkin Customer
Verified Purchase
Great product
Very natural nice product. It is more like lipstick than a stain but, I love the coverage and how it moisturizes my lips. pamperyourself
Verified Purchase
Great lipstick
The color on this lipstick is really nice and it stays on for a long time. It's one of the only lipsticks I wear. Bichonlover
Verified Purchase
Flush of Color-Very Hydrating
I have been using this lip product for more than 2 years. It provides excellent hydration and it adds a flush of color. This is all I need for everyday use. Sometimes I use a light colored lip liner to outline my lips and then apply the lip stain and it looks terrific. I do need to apply it at least 3 times a day. It does not last an entire day. I do not use this product on my cheeks because I don't see any color when applied, so I just use my normal blush. Sunnyside50
Verified Purchase
Favorite everyday lip wear!
I love this! Feels nice and keeps lips hydrated and turns a pretty shade for everyday wear! Doesn't leave stains on cups or face masks either! LovelySkin Customer
Verified Purchase
Ok
This is one of those color-changing lipsticks that is supposed to end up at a perfect natural shade for your skin tone. I wouldn't say that happened for me. It turned an OK color, nothing to rave about. Nice packaging and nice feel on the lips—but it is a gamble if the shade will work for you. LovelySkin Customer
Verified Purchase
It's Nice
Nothing spectacular, but a nice gloss for every day. Not a lot of color payoff; and it seems to change color on my lips throughout the day. Probably will not re-purchase. LovelySkin Customer
Verified Purchase
Terrific
I have this in the pink color. It adds a great flush of color to my lips and is super moisturizing. My lips tend to be chapped and dry but this has left them very soft and the light color it provides tends to last. It also adds a nice soft flush to my cheeks. I plan on buying more soon so that I never run out. velvetyears
Verified Purchase
Wonderful gloss
This tinted gloss is so great. I had received a sample one awhile back. It was in the peach tone. And I prefer the pink one. It goes on beautifully with just a hint of color. And I put a dab on each cheek. It's not to thick. Thank you, LovelySkin. I've really enjoyed the samples, too. LovelySkin Customer
Verified Purchase
Love this
I've been using just kissed lip and cheek stain consistently for about 2 years and love it. It's moisturizing and the peach is just the right amount of color for my lips. I haven't tried it in my cheeks only because I forget that I can also use it there. Good
2 in 1 product and it's good.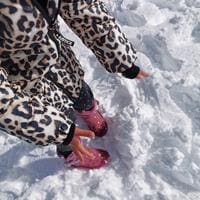 Gingerbread
Verified Purchase
A Lovely Moisturizing Lipstick
I love Just Kissed Lip Stain. It keeps my lips moist and I love the color. The color is not overbearing....just a pleasant pink. SexySue
Verified Purchase
The Best
I love this product. I use the red color and it provides a sheer tint with a great deal of moisture. I use it as a base before lipstick application. I highly recommend. Keeps lips hydrated
Love this stuff. Used it for years. Sheer color with light tint. Very hydrating. Will keep using it. Worth it. Globalgypsy
Verified Purchase
Subtle beauty!
I purchased the forever pink color and initially I thought oh no this doesn't have any color it's just fancy chapstick. I was so wrong!! I kept it on and subtly but gradually a BEAUTIFUL rosy pink hue started to develop and it is stunning. It looks so natural. I can't recommend this product enough. It's like a magazine editorial spring color. Just bitten. I'd really like to eventually purchase the peach color too!!! Pcaru002
Verified Purchase
Love it
Moisturizing and pleasant to lips, great color. LovelySkin Customer
Verified Purchase
Great product great
Absolutely love this. It gives a hint of color on my lip and cheeks without over doing it. It feel good too. Lips to Love
Soothing sheer color, which feels cool on your lips and has lasting color. I didn't have a noticeable more plump lips, but they feel and look great. LovelySkin Customer
Verified Purchase
good product
Color is very natural. Smells good and keeps lips moist. LovelySkin Customer
Verified Purchase
value for money
I bought one for myself during Thanks Giving sale period. After 2 days, during cyber Monday, there's a further discount, I bought one more my nest friend. The price is almost 45% off the price I bought in the retail store! LovelySkin Customer
Verified Purchase
Will Purchase Again
I bought this during Black Friday sale and am so glad I did. It is moisturizing and gives the absolute perfect amount of color to my lips. Very flattering! I have it in my purse at all times. LovelySkin Customer
Verified Purchase
Kissed Lip and Cheek Stain
Jane Iredale products are quality. I haven't tried a poor product, yet. This Stain is no exception. I've only used it as a lip stain so far. The taste is light and fruity. I have a fair complexion. The color I chose was the pink. It is not too dark, but adds a definite change of color. That said it is fresher and more natural than traditional lip stick. Kissable. Originally, I had received a sample of this lip and cheek stain as a sample from LovelySkin. I liked it and began to consider it a staple so I ordered it. I intend to continue to reorder. LovelySkin Customer
Verified Purchase