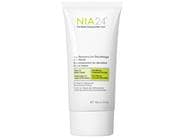 Reviews For
NIA24 Age Recovery for Decolletage and Hands
Love this!
I have been using NIA24 Age Recovery for about a month and I am truly impressed! I am 62 and have very sensitive skin with many triggers for contact dermatitis which rules out many products. My skin loves this though! I notice a surprising difference in the wrinkles on my decolletage and am truly impressed. When you consider the reasonable price this easily becomes a must have. Love this!
I really have liked this product. Seems to smooth the look of crepe skin & looks firmer. Would definitely recommend. LovelySkin Customer
Verified Purchase
Skin care staple
This is a staple in my skincare. I use for hands, even face and body when need extra care. Great for travel as works as an all-purpose cream and price is right for the quantity. LovelySkin Customer
Verified Purchase
Works wonders!
This really helps dry cracked skin! excellent for hands
I have only been using on hands every night. I use the NIA24 neck cream for my neck. I really notice a difference...will definitely keep using this. HIGHLY RECOMMEND
I fell in love with this product right away. The texture and feel of the cream is luxurious. It is a special treat for my hands and decolletage each and every time I use it (which is often!). It is a bit pricey, but I feel the results are worth it. And, I know that I am worth it! If you use the cream faithfully you will notice an improvement in skin tone and texture. I make sure that my 83 year old mother always has it on hand, as well. SusanVY
Verified Purchase
NIA 24 Age Recovery for Hands
This stuff is great! I'm a golfer and this is just what I needed for the hand I do not wear a glove on. I am so pleased to have found this product. LovelySkin Customer
Verified Purchase
Use it twice a day!
I really appreciate NIA24 products! This is especially gentle on delicate skin like the decolletage area. Over a period of time, it helps even out skin tone! Stick with it! Excellent moisturizer for hands
I love this hand cream. It is luxurious and provides rich moisture. While it isn't a ''scented'' product, it does have a light fragrance that is from the niacinamide itself. I have sensitive skin and this works great for me. I haven't used it long enough to see that it is helping with any discolorations yet, but I do believe it is helping with the dry crepey appearance of my skin. I will continue use (along with a good SPF daily on arms and hands) to see how it goes for helping to fade discolorations. I definitely recommend this NIA24 product for anyone seeking rich moisture and anti-aging benefits. LovelySkin Customer
Verified Purchase
GOOD FOR FADING SUN SPOTS!
NIA24 Age Recovery for Decolletage and Hands is light in texture & has a pleasant smell. It adsorbs well into the skin. I helped with fading some sun spots. I had on the back on my hands as far as moisturizing the thin, aging skin of my hands I feel, it fell short but overall, a good hand cream. Alex369
Verified Purchase
Luxe hand cream
Penetrates skin without feeling greasy. After first bottle, I feel my skin texture has improved. Nice herbal scent as well. LovelySkin Customer
Verified Purchase
Great results
I received this as a gift with purchase. After using it for a few weeks, I saw great results. I am an older woman in my 60s and spent too much time in the sun. I protected my face but neglected my chest area. Nothing looks as old as a creepy, freckled chest. I saw improvement with texture and fading the spots. They did not disappear but softened in color, and my skin looked more supple. I ordered another tube. Expensive but definitely satisfied. LovelySkin Customer
Verified Purchase
It works!!
57 with sun damaged hands and forearms ( a lot of sunspots). 2 months I have been applying several times a day and the spots have lighten. I also apply the Replenix sheer sunscreen over this product so I will not loose the results that I have gotten from this product. Will repurchase. Orangecloud
Verified Purchase
Wonderful Moisturizer
I received the NIA24 Age Recovery lotion a few weeks ago and have already noticed an improvement in my hands and décolletage. I love it. I would give it a 5, but I need to use it longer to get the optimal benefits from it. I'm sure it'll be great. I love this product!
NIA24 Age Recovery for NIA24 Age Recovery for Decolletage and Hands has improved the dark spots on my decolletage and hands dramatically. I will order this again. LovelySkin Customer
Verified Purchase
Expensive but it seems to work
I've been using this for a little over a week and have started noticing improvements–more than I have with other products in the past. I find that it has calmed the damaged red skin on my upper chest area and is improving the appearance of my hands. I am in my 60s, so I appreciate all the help I can get for sun damage! That said, I find the product is very expensive, and I would improve the packaging. I'd prefer a flip-top cap, to make it easier to use. The screw-top cap it has now is a bit awkward. I'd give it five starts otherwise! LovelySkin Customer
Verified Purchase
Nia24 Skin Damage Repair. . . GOOD!
I use this pretty regularly. I also use Retin A cream so the combination, applying the Nia24 after at bedtime seems to help. I also use it in the a.m., as well as a sunscreen. Not sure if this is all scientifically proven, but from my experience, it's a good combination. LovelySkin Customer
Verified Purchase
Hand cream
Good product, will rebuy it. LovelySkin Customer
Verified Purchase
Will order again
I have been using NIA24 Niacin-Powered Skin Therapy Sun Damage Repair for Decolletage and Hands beginning with a sample four months ago followed by a purchase of the full size two months ago. Not only do I use it on my decolletage and hands but also my arms and shoulders. I have a lot of sun damage from childhood sun exposure and adult photosensitivity from medication. I believe much of the damage has begun to fade and will reorder a second container and continue the treatment. LovelySkin Customer
Verified Purchase
Nice!
I have to say after using the product on my decolletage and hands for about 3 weeks every night, I believe my sun spots are fading! LovelySkin Customer
Verified Purchase
This product works!
I was very pleasantly surprised by this cream. I have been using it on my forearms and hands after some minor sun exposure over the summer. My skin tone is much more even and my skin seems smoother. It doesn't take too long either. I saw immediate results the next morning and then gradual improvement. I'm going to give tubes of this to the women in my family for Christmas! LovelySkin Customer
Verified Purchase
Hoping for more (actually less)
I've been using NIA24 daily for ~1 month, and I was initially very excited about the progress I saw on my aging, sun damaged hands. The dark spots are definitely lighter, and I'm hoping they will continue to significantly lighten with regular NIA24 use. The progress, however, has slowed down. I'll keep trying. It's easy to use and dries quickly so I can also wear the driving gloves I should have been using decades ago. LovelySkin Customer
Verified Purchase
Affordable and absolutely works
I apply this to my hands and arms every morning. The fragrance is great, but in a short period of time, it reduced not only dark spots but white spots from sun abuse years ago :( Will definitely buy again. LovelySkin Customer
Verified Purchase
A Satisfying Experience
NIA24 Sun Damage Repair for Decolletage and Hands has helped to improve the general appearance and the moisturization of my hands, arms and decolletage. My "age spots" are much less noticeable with use of this product. I feel that my skin in the above mentioned areas is more youthful (even at my 70+ age). I have had several compliments that my skin looks really great. I am happy with the product and recommend it to others...definitely worth a try. Thank you LovelySkin for offering NIA24 products, and I greatly appreciate the samples that you offer. Actually, use of a sample from you is how I got started using NIA24 Sun Damage Repair for Decolletage and Hands. LovelySkin Customer
Verified Purchase
NIA24 Sun Damage Repairfor Décolletage and Hands
I started using this product a few weeks ago for the sun damaged skin on my arms and hands. It takes time to heal such serious damage, time to see results, but it seems to be working, certainly much better than any product I've tried previously, and there have been several through the years. I've just re-ordered this product, believing it will continue to heal the damaged skin with continued use. My arms look better already. LovelySkin Customer
Verified Purchase