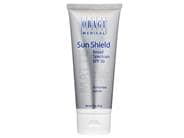 Reviews For
Obagi Sun Shield Matte Broad Spectrum SPF 50 - New Formula
266 Results
The best ever!
I am 42 years old and have been searching for a sunscreen for years that doesn't make me break out, or cause my very allergic skin to flare up, make my face shiny, and so many wonderful things! I use it as the last step of my skincare, so after serums and 15 minutes after my moisturizer. If I don't have time to wait 15 min I apply right away and I still get good protection. The best thing about this is with all the serums and moisturizer I use along my make up, absolutely no piling! None at all! It is affordable, especially here on LovelySkin because most always I get it on sale and it is a good size amount. Another thing I LOVE about this is in the summer months I really do not need a moisturizer. Even though it's matte, it does a great job. The matte makes my skin glow without the shine. More of evens out my skin tone smooth with a little glow to it. I have received many compliments on my skin. This is the only change I've made in my Skincare products and no injections or anything else done to my skin. Obagi sunscreen
Apparently this is a new formula which I was not aware of when I purchased this. I have purchased this in the past and loved it because it was truly matte and did not have a greasy feel. This one does and I will not purchase it again LovelySkin Customer
Verified Purchase
New formula is super greasy!
I've used this product for years and the best part was always that it had a matte finish. I'm going to try to get my money back. Mountaingirl
Verified Purchase
Great addition to my anti-aging skincare routine!
I live in sunny AZ so SPF is a must. Obagi is my go-to for my full skincare routine and I apply this whether or not I am wearing makeup. It is not greasy and helps to add another layer of protection from the harmful rays that are sure to age my skin. The best part is that is is a matte formula so it does not leave my face shiny like others I have tried in the past. Mullavey
Verified Purchase
Best sunscreen ever!
Protect your face, neck and chest with this sunscreen. I can get beet red all over my body and any place I apply this doesn't look like it's gotten any sun! Apply before makeup and it gives you a perfect base. Do it every day to save your skin! Karen1964
Verified Purchase
No longer matte
I have used this product in the past and loved it.However, the new formulation is not matte, in fact it made my face quite oily in appearance. Didn't like it, went and bought the 35 matte instead. Peace123
Verified Purchase
Love this sunscreen!
I love this sunscreen! It doesn't have a scent and goes on smoothly and absorbs nicely into your face. I highly recommend! LovelySkin Customer
Verified Purchase
Good defense, but hard to see
Overall it has worked nicely for me on the long mountain hikes, but every time there is a little bit that I miss when applying and it ends up burnt. I wish the product had a longer non-absorption phase to be able to see more clearly where it has been applied. LovelySkin Customer
Verified Purchase
It does what it is suppose to do!
I have been using Obagi for at least five months. I have melasma and have been searching for something that would work. I must say these products are great and I am seeing results. I love all of the Obagi products. I use the sun shield with the Obagi system. It does not leave my skin oily and sticky, as so many others that I have tried do. As with all of the Obagi products, a little goes a long way. The best sunscreen for your face!
This is my favorite sunscreen for my face I have ever tried. It does not smell. It a not sticky. When you rub it in it does not leave a white streak. Perfect. Screensaver
Verified Purchase
I hate this new formula!
Please, please, please go back to the old formula. The new formula is greasy and no at all a matte finish like before. I'm very disappointed. clareckelly
Verified Purchase
Obagi Sun shield
I am a big fan and user of Obagi products I have used this sunscreen as a daily for over 9 years I have tried lots of products before but this one is the one winning for me . Disappointed
I am an avid Obagi fan but may not buy this product again. The product quality and performance do not justify the price. LovelySkin Customer
Verified Purchase
Reliable sun protection
This is by far my favorite sunscreen to wear when I am going to be outside for a long period of time. This rich and smooth lotion goes on easy, and blends well with no white streaks or residue. Does not feel greasy, but is not dry touch, either. I trust the Obagi name brand and this product does not disappoint. BaseballMom
Verified Purchase
Great Coverage from the Sun
Love all of the Obagi line up. Have seen great results and will continue to use all of the Obagi products!! Good stuff!
I've tried lots of natural sunscreens and this one ranks high! Florabundance
Verified Purchase
Very good
very protects and moisturizes LovelySkin Customer
Verified Purchase
Changed Ingredients
I have used this sunscreen as a daily face cream for about 10 years now. I recently order and this was my first purchase from Lovely Skin. I was surprised to see that it is now a greasy formula. Not Matte at all. I will try to return and now have to find a new sunscreen. Not sure what to use. LovelySkin Customer
Verified Purchase
Love Obagi
I am a big fan and user of the Obagi products. The Sun Shield is outstanding...not overly matte but not shiny. No white residue and stays in place even during my workouts outdoors. LOVE THE OUTDOORS!
I 'm hooked on the Obagi Sun Shield. I love being outside but want my skin to be protected. This is great to even wear under my make-up. I've been using this for two years and couldn't be more pleased. Summergirl
Verified Purchase
Sun Shield
Unfortunately, this product was not a fit for my skin. It broke my face out terribly. The only Obagi product I've not been able to use so far. LovelySkin Customer
Verified Purchase
OK
It goes on smooth but after about an hour I notice it clumps up and peels off my face. LovelySkin Customer
Verified Purchase
Great product.
I love this product because it goes on very easily and absorbs quickly allowing me to use my liquid makeup right away. I originally ordered for my neck area, but now I use it on my face and arms as well. It doesn't leave a film or feel sticky. It's a great product. LovelySkin Customer
Verified Purchase
Buyer beware!
I used to buy this product all the time. It was my go to sunscreen and nothing else compared. I recently purchased this. When I first used this version, it smelled different, had a white cast, and was very greasy. I tried it a few times and then some research. The formula has changed. The old formula was Octinoxate (7.5%), Zinc Oxide (10.5%). The new formula is Homosalate (10%), Octisalate (5%), Zinc Oxide (16.5%). I am off to finding a new sunscreen. LovelySkin Customer
Verified Purchase
Non-greasy, invisible
I've never used sunscreen on my very oily, olive skin for fear of clogging my pores on my acne prone skin. I went with Obagi Sun Shield as I was using Retin-A and had to protect my skin now. It applies evenly and doesn't leave a film and is non-comedogenic so I'm very pleased. LovelySkin Customer
Verified Purchase