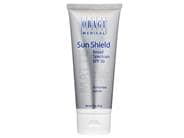 Reviews For
Obagi Sun Shield Matte Broad Spectrum SPF 50 - New Formula
276 Results
Good stuff!
I've tried lots of natural sunscreens and this one ranks high! Florabundance
Verified Purchase
Very good
very protects and moisturizes LovelySkin Customer
Verified Purchase
Changed Ingredients
I have used this sunscreen as a daily face cream for about 10 years now. I recently order and this was my first purchase from Lovely Skin. I was surprised to see that it is now a greasy formula. Not Matte at all. I will try to return and now have to find a new sunscreen. Not sure what to use. LovelySkin Customer
Verified Purchase
Love Obagi
I am a big fan and user of the Obagi products. The Sun Shield is outstanding...not overly matte but not shiny. No white residue and stays in place even during my workouts outdoors. LOVE THE OUTDOORS!
I 'm hooked on the Obagi Sun Shield. I love being outside but want my skin to be protected. This is great to even wear under my make-up. I've been using this for two years and couldn't be more pleased. Summergirl
Verified Purchase
Sun Shield
Unfortunately, this product was not a fit for my skin. It broke my face out terribly. The only Obagi product I've not been able to use so far. LovelySkin Customer
Verified Purchase
OK
It goes on smooth but after about an hour I notice it clumps up and peels off my face. LovelySkin Customer
Verified Purchase
Great product.
I love this product because it goes on very easily and absorbs quickly allowing me to use my liquid makeup right away. I originally ordered for my neck area, but now I use it on my face and arms as well. It doesn't leave a film or feel sticky. It's a great product. LovelySkin Customer
Verified Purchase
Buyer beware!
I used to buy this product all the time. It was my go to sunscreen and nothing else compared. I recently purchased this. When I first used this version, it smelled different, had a white cast, and was very greasy. I tried it a few times and then some research. The formula has changed. The old formula was Octinoxate (7.5%), Zinc Oxide (10.5%). The new formula is Homosalate (10%), Octisalate (5%), Zinc Oxide (16.5%). I am off to finding a new sunscreen. LovelySkin Customer
Verified Purchase
Non-greasy, invisible
I've never used sunscreen on my very oily, olive skin for fear of clogging my pores on my acne prone skin. I went with Obagi Sun Shield as I was using Retin-A and had to protect my skin now. It applies evenly and doesn't leave a film and is non-comedogenic so I'm very pleased. LovelySkin Customer
Verified Purchase
Elegant sunscreen
I love this sunscreen because it is matte and non-greasy....works well under makeup. It feels comfortable upon applying as well. I am a repeat customer for this sunscreen. LovelySkin Customer
Verified Purchase
Glad I tried this sunscreen
The word matte is appealing when you are looking for a sunscreen , that's exactly why I bought this ! However , this sunscreen to me isn't matte, it leaves a thick film on my face. BUT I don't burn and there's no smell. There is a slight white cast but overall it was decent but not the best. I also did not like the packaging, should've made this into a pump, sunscreen was too liquidy and made a mess. There's so many sunscreens I've yet to try and am still hunting for the best. Kathybe113
Verified Purchase
Matte sunscreen
Protects your skin, it leaves skin oily and it is suppose to be matte finish. I do not like the greasy, shiny look. Honeybun
Verified Purchase
Obagi Sun Shield Matte Broad Spectrum SPF 50
Ive been using Obagi products and especially its Sun Shield Broad Spectrum SPF 50 for years, since my aesthetician first recommended it to me as the best facial SPF product on the market. It is without a doubt simply the best and my biggest reason for saying that is that it's non-greasy. It can be applied easily over make-up and is absorbed immediately, never greasy and never streaks. I'm a fair-skinned blonde and have to wear serious SPF lotion to avoid freckles, age spots and blotchy skin. I apply Obagi' s Sun Shield powerful lotion every morning before or after makeup, even in the winter since hurtful sun rays can still penetrate clouds and even glass windows. I have the best skin of my life now, and I'm 70 years old LovelySkin Customer
Verified Purchase
Obagi Sun Shield Matte
I will never buy this product again because YOU changed the ingredients to a greasy feeling. I bought this product regularly for 4 years and loved the no grease feel on face. I could wear makeup with ease. I loved it BUT not anymore. You ruined a good thing from other clients too I see? Shame on you. Change it back. For this amount of $, you should please your angry clients. LovelySkin Customer
Verified Purchase
Must Have
I live on a lake and spend a lot of time outdoors. Obagi Sun Shield Matte Broad Spectrum provides me with both UVB and UVA protection. There's no smell and it doesn't burn or sting. I also love that it's mineral based. I will purchase again. BrendaH01
Verified Purchase
Changed ingredients
Changed ingredients, chemical and not matte at all LovelySkin Customer
Verified Purchase
Returning
I've been using this sunscreen for like 8 years now and I've been loving it since then but now that they changed the formulation I HATE it so much, it's not as matte as it used to before. It looks like you put an oil on your face. So disappointed. KatCarla
Verified Purchase
Bamboozled
I have oily, acne prone skin and used this product for -years- . Liked it a lot, because it minimized shine (though not perfect, as it could have been a tad less chalky. Still, It was the best I had found). Unbeknownst to me, they changed the formula. It is now feels slick and greasy. Not sure how Obagi can continue to call it matte, and I feel a bit punked. What was once 4 1/2 stars for me is now one star, and useless. TCannaday
Verified Purchase
Wonderful sunscreen
This sunscreen is everything you need. I use it on my face daily. Superior sun block
I love this sun block. It is heavy in texture, but blends like butter. Makes my face feel smooth and moisturized, not greasy. Good one
Great lotion, no oily face after applying, but if you have dry skin I would probably try something else because it is a little drying for me. But overall would repurchase again. LovelySkin Customer
Verified Purchase
Not as Matte
I ordered this product because my mother raved about it, but I was not the biggest fan. It says its matte, but I feel like its slightly oily on my skin! I will finish the bottle i purchased but not sure if i would buy it again. LovelySkin Customer
Verified Purchase
NOT MATTE
I've used Obagi matte sunscreen in the past, and they must have changed the formula. This product is NOT matte in the least! And, my skin is on the dry side, not oily at all - I just don't like a shiny face. I don't want to have to put powder over it to tone it down. I'm so disappointed because the zinc content is impressive and Obagi is generally a good manufacturer. This product would make a fine sunscreen for your legs, if it were not so expensive. Tinkerbelle
Verified Purchase
Disappointed!!
I have used this sunscreen for many years and loved it until this last purchase! They clearly have changed the formula! It now goes on very white (a little goes a long way) and not a matte finish like before, my skin looks shiny throughout the day!! I will be on the search for a new sunscreen! LovelySkin Customer
Verified Purchase