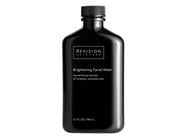 Reviews For
Revision Skincare Brightening Facial Wash - 6.7 oz
$33.00
Face wash by Revision
The Revision Skincare Brightening Facial Wash is lovely. I have oily, acne-prone, sensitive skin, which makes it very challenging to find skincare that cleans but does not over dry my skin. Finally, I found the perfect face wash. This face wash removes makeup and oil but leaves your skin feeling balanced and smooth. No breakouts for me. I love it and will purchase again! Amazing!!
I am so very much in love with this cleanser!! It has rapidly become my favorite and first choice. After using exclusively for 3 wks I can see such a difference in tone and texture. Can't wait to see results further down the road. The only downside is it doesn't come in a huge bottle with a pump. Revision facial wash
I've used this product for years. Was introduced to it by my dermatologist, but now order it from you because it's more convenient. LovelySkin Customer
Verified Purchase
Best face wash ever!
Hands down the best face wash ever. I started using in the mornings now use 2x a dsy. It has cleared my skin up so much! LovelySkin Customer
Verified Purchase
Wonderful face wash
I first heard about this face wash from a local aesthetician who swears by it so I tried it. I love it. It lathers well, is fragrance-free, and helps to brighten my face. I believe that using this face wash followed by a good vitamin C serum is helping my appearance to remain youthful and free of dark spots. Freshface
Verified Purchase
Soft and Flake Free Skin
I love this cleanser because it gently exfoliates and removes the remaining traces of makeup as part of my double cleansing routine. My skin always feels super soft and flake free, and gives me a nice canvas for my serums and moisturizers. JessieH
Verified Purchase
Revision Skincare Brightening Facial Wash
This facial wash is a pleasure to use. It leaves my skin clean and refreshed. All traces of makeup are gone and I love that smooth feeling. Nor does it dry out my skin. It's a keeper! LovelySkin Customer
Verified Purchase
Cleans skin without stripping
I feel like this ones has light exfoliation. I like to use this in the morning after using a retinal product at night. Foreveryoung
Verified Purchase
Second time purchase
Right when my first bottle of this face wash started getting low, I came back to order my second. I can't remember the last time I've done that! I love that this face wash has great ingredients that leave my skin cleaner and brighter, but doesn't leave my skin dry. If I do switch in the future, it would only be to try Revisions papaya enzyme cleanser, I definitely trust this brand now. LovelySkin Customer
Verified Purchase
Good staple
I got this based off of a recommendation from a friend and have been very pleased with it. It does a good job as a morning and/or nighttime cleanser and definitely cleans my skin better than previous washes. Very gentle and the scent is subtle. Will repurchase LovelySkin Customer
Verified Purchase
Best face wash
I am 54 and have been using this face wash for over 4 years. It keeps your face looking bright and fresh. Helps keep dark spots from occurring. I do not recommend using on your eyes because if it gets in your eyes it is miserable. I use a different face wash product for around the eyes. I highly recommend this product if you have dull and splotchy skin. You won't be disappointed by the product. LovelySkin Customer
Verified Purchase
Very Drying
First, I use the Revision Soothing Facial Rinse, which I absolutely love. I have very sensitive, dry skin, and the rinse is the best toner I have ever used ( and I am in my mid 50s, and have used a skin regimen since I was 13) . Anyway, I inadvertently received the wash--I had put the wash on automatic reorder, when I really meant to get the rinse. Well, after getting the wash, I decided to give it a try, since I generally like the Skinceutical product line, especially the Reservatrol BE antioxidant night concentrate (amazing stuff, absolutely love it, even with its high price tag). Well anyway, I tried the wash and my face felt so dry and tight. I mean so much so that I immediately rinsed my face and heaped on lots of moisturizing cream. I only used the wash once, thinking I would return it, instead I gave it to my teenage son and daughter; however, neither have used it. I gave 2 stars because it didn't work for me, I can't say it wouldn't work for someone else. LovelySkin Customer
Verified Purchase
Great Face Wash
I use this face wash AM/PM it leaves my face feeling super clean. However, I have noticed my skin feel tight and a bit dry. I might have to alternate with another cleanser. LovelySkin Customer
Verified Purchase
Gentle for every day
I have been using this facewash for years as it cleans your face of makeup and oils without drying skin. I use it in the am and pm daily. LovelySkin Customer
Verified Purchase
Wonderful Cleanser
I have melasma and have been looking for products to help lessen the appearance. This cleanser has definitely helped in making my skin smooth and more youthful looking. While I haven't seen any lightening of my melasma yet, I hope that with this, as well as other products, will help with brightening and lightening my hyperpigmentation. This does not cause any breakouts on my acne-prone skin and I will continue to use. My skin is definitely brighter and less dull. LovelySkin Customer
Verified Purchase
Nice face wash.
This face wash feels nice and I like the smell. I haven't been using long enough to know if it will be good for evening my skin, but my face is softer and my makeup seems to go on nicer after using it a few weeks. LovelySkin Customer
Verified Purchase
Love this face wash!!
I have been using it for 2 weeks and I already see a difference! I will be repurchasing this when I'm finished! Ajdudzinski
Verified Purchase
Holy Grail Face Wash!
I absolutely love this face wash for my acne prone/combination skin! Within two weeks of using (2x/day), I have noticed an improvement in my skin tone and texture. I typically get clogged pores/congestion around my t-zone, but this has helped to eliminate breakout. I can't recommend this face wash enough! LovelySkin Customer
Verified Purchase
Face wash
Working great! Helps give my face a glow. LovelySkin Customer
Verified Purchase
Brightening Facial Wash
This was a bit harsh for my face, but overall the product is very nice. SLCroghan
Verified Purchase
Combo skin
The best for oily/combo skin. I'm on my second bottle! I use AM and PM. LovelySkin Customer
Verified Purchase
The Best
THE BEST FACE WASH! I also use the Papaya Enzyme cleanser as well but the brightening wash is so amazing! LovelySkin Customer
Verified Purchase
Acne prone skin cured
My aesthetician recommended it to me when I could not do anything about my skin after the baby. My skin after delivering my son was bumpier than in my teenage years, and I was 35 at the time. It was horrible. After just a couple of weeks of twice a day wash with this it was all gone. I was impressed - I wish I had it when I was 15! I've been using it for a couple of years now, still enjoy its fresh gentle smell and the lack of acne. I also appreciate that even after using it at least twice daily, it does not dry out my oily sensitive skin. Highly recommend! Revision Brightening Facial Wash
Very good rejuvenating cleanser. It does leave your skin smoother and brighter. Also, it smells great too! MsRedhead
Verified Purchase
Brightening!
You can feel this wash working! It is a great brightening wash and I definitely see signs of my skin being more clear. LovelySkin Customer
Verified Purchase