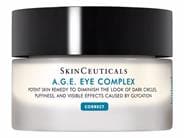 Reviews For
SkinCeuticals A.G.E. Eye Cream Complex
$98.00
Soothing
Only eye cream that hasn't irritated my sensitive skin. I felt like I saw immediate benefits too! LovelySkin Customer
Verified Purchase
Excellent
Tried a same first and was hooked. This has such a luxurious feel to it and sinks into the skin easily. It does sometimes cause the skin around my eyes to feel slightly warm but has not irritated my eyes at all like some other creams. My eyes do seem less puffy and dark circles seem less pronounced and I have not been using it all that long. Definitely recommend this one. IWantThursdays
Verified Purchase
A.G.E Eye Complex
This eye is really nice! You need very little of it as it goes a long way! Will definitely be ordering again! LovelySkin Customer
Verified Purchase
Love it
I really love this eye cream. It feels great around the eye area, and I can definitely tell a difference in the month I've been using it. It is pricey, but ive spent so much on other products that didn't work. I will continue to purchase this! A little goes a long way, so it should last for a while. LovelySkin Customer
Verified Purchase
Awesome
That eye cream is my favorite. Not greasy and very effective. LovelySkin Customer
Verified Purchase
Improvement in less than a month!
I'm so happy I tried this A.G.E. Eye Cream Complex....less than a month of using this product, I'm already seeing improvement. Hope to see more as I continue to use it! Would definitely recommend this product! So creamy & smooth!
I have tried a lot of eye creams but this one takes the cake. The product practically melts on your finger & I could see a significant decrease in puffiness in just a few days. Definitely a new favorite! Best eye cream on the mkt!
I came across this eye cream on YouTube during a makeup tutorial. It was described as smoothing out fine lines etc and was this person's go-to eye cream. I decided to try it and am glad I did! The cream performs as described! I am 61 yrs old and will never be without this! I am now on my 2nd jar and have purchased the face moisturizer too! Thank you! DawnRanai
Verified Purchase
AGE eye cream complex
This is a wonderful, hydrating cream. I have repurchased this given that it is truly a great product. I highly recommend this! LovelySkin Customer
Verified Purchase
Great eye cream
Moisturizes. Great under eye makeup. Not greasy, non drying. Rids fine lines. My favorite. LovelySkin Customer
Verified Purchase
A.G.E. Eye cream
Amazing product. I completely recommend this. LovelySkin Customer
Verified Purchase
Dreamy Eye Cream
Smooth, creamy just the way I like it. At almost 60, I have near zero crows feet. Thank you AGE! I pair with Tripe Lipid face cream. Amazing
Rich and thick, wonderful product ! I've been using this brand and can't complain! Great product
Heard about this via a celebrity on social media & it did not disappoint. Love it
When I use it at night, the next day I see my face become very smooth Maggieyang
Verified Purchase
This is the real deal
I have used many eye creams and they would either sit in the wrinkles making them look worse or do pretty much nothing to improve the appearance of my eye lines. With A.G.E. I literally cut the Botox treatments in half! I seriously go to get the injection once or twice a year instead of every 3 months like clockwork. It's really great!! LovelySkin Customer
Verified Purchase
Good product
I have used SkinCeuticals products for over 15 years and A.G.E. Eye Complex does not disappoint! It is emollient but not overly so as to "melt" eyeshadow or eyeliner. It is a staple skincare product that is reliable for eye area care. AGE eye fantastic
I've been using AGE eye for 10 years every night. I love it! You can really tell it works! I love all SkinCeuticals products!! AGE eye cream
Seems to help keep my eye area smoother. I am 63 and it works nicely. Skinceuricals
Verified Purchase
Best for over 50
I have tried many pricey eye creams, but none of them addressed puffiness in addition to dark circles and wrinkle lines...until now! AGE is amazing! I have a significant, visible improvement in all three signs of aging. Highly recommend for anyone over 50. BeverlyB
Verified Purchase
Eye cream
Excellent eye cream Best eye cream
I've been using this product for about a month now and my under eyes look more refreshed, especially without makeup! LovelySkin Customer
Verified Purchase
Holy grail
This eye cream is amazing. I'm in my early 30's and wanted to start using something g that would target the fine lines under my eyes while also treating dark circles and puffy eyes. This product has been my all in one eye care regimen. I use it day and night and after 2-3 weeks I can notice a remarkable difference! It's now part of my skin care arsenal, I'm so happy I found this!! LovelySkin Customer
Verified Purchase
My favorite eye cream!
I've used SO many different eye creams overs the years, and I always come back to this one. After applying, my eyes are so hydrated, full of moisture and wrinkle free for pretty much the entire day. It's one of those products you actually look forward to using every day because you can instantly see results. Love this stuff so much! AJTodaro
Verified Purchase
Best eye cream ever
I have been using this eye cream for about 10 years now religiously. It's dense but not too greasy. I'm in my early 50s and it helps with all my fine lines, occasional dark circles, and puffiness. Everything else I've tried in the past doesn't work as good as this one.