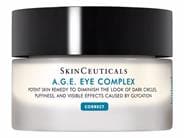 Reviews For
SkinCeuticals A.G.E. Eye Cream Complex
$98.00
Eye Cream Complex
I have only been using the eye cream for 2 weeks. It is a great cream and believe it has firmed and moisturized my under eye area. So far I would recommend. LovelySkin Customer
Verified Purchase
just ok
I have been using Neocutis for a couple years. At the urging of my daughter, I tried this eye cream. The texture is thicker and the results don't compare. LovelySkin Customer
Verified Purchase
Love!
One of my favorite skin care products. It literally melts into your skin. Eye area looks hydrated and brighter TatianaL
Verified Purchase
Expensive...but hoping it is worth it
So this is much more expensive than I would normally spend on eye cream....I certainly hope it lives up to its price. I like the smoothness, not too heavy. Halfway through the jar and hoping to continue to see results. KAbbott
Verified Purchase
Best Eye Cream
I've been using this product for about a decade as nothing compares. It deeply hydrates and leaves the eye area nice and dewy. Wish it weren't as expensive, but you get what you pay for and this is worth it. AndriaInTheA
Verified Purchase
BEST Eye Cream!!!
I love this eye cream! I've tried many other brands, but nothing gives the moisture back to my eye area like this does. Great eye cream!
I've only been using this product for about 2 weeks but I love the way it glides on my under eye area. I've noticed slight improvement in under eye wrinkles but too soon to see a difference on those difficult dark circles! megmar182
Verified Purchase
Great eye cream
Very moisturizing, goes great under makeup, but didn't improve any fine lines. Looks like it just a very expensive eye moisturizer. So lightweight and lovely!
This is a wonderful eye cream, I really felt it was smoothly with a velvet-like feel. Not waxy or thick. Super absorbable and lovely! LovelySkin Customer
Verified Purchase
Excellent and Emollient
This eye cream works best for night time use for me. I love the way it feels. Its very emollient and soothing. I tend to use another eye cream that is just a bit lighter for day time use. LovelySkin Customer
Verified Purchase
Got rid of redness on my eyelids.
Recommended by my esthetician for redness on my eyelids. She said it would eliminate the redness and she was right, in about two weeks the redness was gone as as well and darkness underneath my eyes. It's very moisturizing, also. Very pleased with this product. cnotelynn
Verified Purchase
My #1
This is the best eye cream I've ever used, I can definitely tell the difference when I stop using it to use out other eye products. I'll never be without this one. LovelySkin Customer
Verified Purchase
Amazing Eye Cream
I LOVE this eye cream. I use it every night and even though I have very dry, sensitive skin, this eye cream doesn't cause me any reactions. It lasts 5-6 months for me. It's an investment for an eye cream but totally worth it. I recommend it completely! Rich, deep moisturizing eye cream
I have tried many eye cream at all price points. This eye cream makes the skin around my eyes feel full and supple. I look forward to putting it on at night! LovelySkin Customer
Verified Purchase
Deliciously moisturizing!
I love this eye cream. It goes on so smooth and really hydrates under my eyes. I love that it isn't too thick... just the right amount! I put it on first am/ pm and just let it soak in... it really de-puffs and reduces dark circles! Kindlyk
Verified Purchase
Just lovely!
I needed new eye cream and received a sample of this product. After using it, I knew it would be an excellent addition to my current SkinCeuticals regimen. I really like this eye cream. LovelySkin Customer
Verified Purchase
Amazing product
This cream makes miracles. It makes my eyes look younger, and it helps with the fine lines around my eyes. I will never stop using this product. Amazing
Best eye cream ever! LovelySkin Customer
Verified Purchase
Perfect cream for the eyelids
Great moisture and nourishment Highly recommend SkincareVera
Verified Purchase
Good product.
I have terrible dark circles and I have noticed that those are going away - unless I have a high stress or sleepless week. My biggest issue is that it does irritate my eczema that's on my eyelid and right under my lower lashes. when I'm having a flair up. Which for me personally makes this product a 4/5 but if it wasn't for my own very personal eczema issues it would be a 5/5 which is why I'm still giving it a 5/5. But outside of that this is 100% worth the money I spent. Hannuhbug
Verified Purchase
A.G.E Eye Complex
I've been using this product for a few months now and no complaints! Absorbs into my skin fast and keeps my under eyes moisturized all day & night while on accutane. LovelySkin Customer
Verified Purchase
Costumer
First time using the eye cream and I really love it, it helps my wrinkles, dryness around the eye area. LovelySkin Customer
Verified Purchase
Fav eye cream
I LOVE this. It adds so much moisture to my eye area and soaks in well. It feels thicker than other eye creams I've used and seems to moisturize so well! cehalmost40
Verified Purchase
Made my skin better
I absolutely like this product. It works for my skin. I will buy it again. LovelySkin Customer
Verified Purchase
AGE eye complex
AGE eye complex has made me feel years younger. Laugh lines around my eyes are minimized. It's a great base under my makeup LovelySkin Customer
Verified Purchase