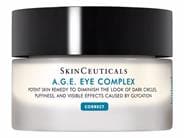 Reviews For
SkinCeuticals A.G.E. Eye Cream Complex
$98.00
AGE Eye Cream
I wanted to love this as I do love most skinceutical products. But this cream makes my undereye MORE puffy. I've been really disappointed. I'm 69 yrs old but do get less puffy eyes with other companies. I don't recommend but it just might be a reaction that I get to something in this cream. Might also work better on a younger skin. Roguewoman
Verified Purchase
not a fan
It stung my eyes and didn't improve dark circles. It's a bit greasy. Returned. (Love other SC products!) LovelySkin Customer
Verified Purchase
Too heavy for my skin
This was recommended by my dermatologist, but it's too heavy for my skin. It made me develop small bumps around my eyes. LovelySkin Customer
Verified Purchase
not unique
This is your standard eye cream-thick and heavy-but not sticky or overly greasy. It adheres well and feels very moisturizing. It leaves a little bit of a shine. It has a chemical scent that reminds me of glue. There are probably lower priced options that are more aesthetically pleasant. Just Ok
I've been using this eye cream since November and haven't noticed any real difference in the lines around my eyes. In fact, I feel like this might have made them drier. I won't repurchase. Seemed to make the issue worse
I was looking forward to trying the A.G.E Eye Complex because of all the amazing reviews. I had been using the Eye Balm which was very moisturizing and worked great under makeup, but I wanted to try something new to treat surface wrinkles. I've been using A.G.E. Eye Complex for about a week now, 2x daily. It has been stinging and now my surface wrinkles look more pronounced as do my dark circles. I am disappointed as it was an expensive purchase. It definitely did not work for me. I am going back to the Eye Balm. LovelySkin Customer
Verified Purchase
disappointed
I have used the Skinceuticlas eye balm for several years. I wanted to try the new A.G.E. because it was a newer version and description seemed to be the next generation of eye balm. To begin the product was very thick and hard to apply. Then I had a weird and bad reaction to it. My eyes became puffy and my under eyes turned darker. I hated it. I have returned it and will stick to my good old eye balm or try a different brand. Very disappointed and very unhappy at my eyes reaction to it. LovelySkin Customer
Verified Purchase