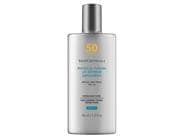 Reviews For
SkinCeuticals Physical Fusion UV Defense Tinted Sunscreen SPF 50
$34.00
Does not absorb into skin
Loyal user. Tried every product, using Clenziderm products, Vitamin C then Vit B for moisture. Plenty of time between applications. Have tried ridiculous sum of money, time & effort to find something. The stuff streaks, leaves pealed looking skin on face, does NOT absorb. I really want to be their cheerleader. Believe in products, philosophy, etc. Why won't a sun block work on skin. Cheap off the shelf works fine, so there you go Done trying, spent a fortune looking for product that works in this line and can't find it! Help! Had to return this priduct
This sunscreen hurt my face when I put it on it also dried my eye area out like no other. I'm not sure if I was allergic to something in it but my face was literally sore after having it on. I tried for a few days but just couldn't do it anymore. The formula is like liquid coming out. I do not believe it provides a good tint for being tinted moisturizer. I've tried many. This is the worst. LovelySkin Customer
Verified Purchase
Ugly cast
I adore skinceuticals products but this one is a bust for me. It leaves a chalky pasty cast that doesn't go away and isn't attractive at all. I will just toss this in the trash. Adaptogen
Verified Purchase
Not for me.
I bought this hoping it would work for my skin tone but unfortunately it didn't. I am brown skin in color and have a hard time finding a sunscreen that doesn't leave a white cast or if tinted match my skin tone This one went on well didn't ball up or pill but looked like a grey-ish white cast on my skin. Plus side is, it goes on well but not for my skin color. Oh and a little too runny for application. Not a good sunscreen
I wore this for 35 minutes at the pool and got burnt. It is only good to wear under makeup that has sunscreen in it as well. LovelySkin Customer
Verified Purchase