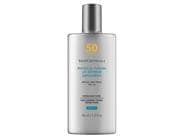 Reviews For
SkinCeuticals Physical Fusion UV Defense Tinted Sunscreen SPF 50
$34.00
Alternative to makeup
This tinted sunscreen goes on smoothly and has good coverage so I don't have to wear foundation. It goes on a little wet, but I gently pat my face with a towel to lift any residual glaze. I tried several other tinted sunscreens and had to come back to this one. MplsMama
Verified Purchase Yennguyen
Verified Purchase
My Absolute Favorite Products by SC!
I cannot live without this product!! I use it every day and will not leave the house without it. Not only is it great because it contains the SPF I need to keep my skin safe, it balances and evens my skin tone so I don't need any makeup and feel comfortable! My skin is sometimes blotchy and red in appearance, and this helps a ton to make me feel more confident during the day! LOVE IT!!!! LovelySkin Customer
Verified Purchase
Love!
Love this sunscreen and wear it every day! It is not heavy and goes on super easy. Provides a nice tint, especially on days I don't wear makeup. I live in Florida where it is super humid. I like this because I don't feel it on my face but know I am protecting myself! LovelySkin Customer
Verified Purchase
Best sunscreen
I wear this sunscreen every day. The tint is absolutely perfect. I highly recommend. Favorite sunscreen!
This is my new favorite! I have been using the untinted version for a while and I'm so glad I finally tried this tinted version. The untinted leaves my face a little white (even though I'm very pale) but this tinted version goes on with just enough color to blend in. I don't think it provides much coverage at all but it smooths my skin out and goes on very easily and looks good throughout the whole day. I prefer a physical sunscreen so I'm glad I finally found my staple. LovelySkin Customer
Verified Purchase
My go to!
I am in love with this product! I've used it for years and it has become a staple in my facial and makeup routines. The texture is light, it absorbs, the tint is perfect, and it does not sting my eyes. I tried so many sunscreens before I discovered this. Try it, you'll love it! JulieM57
Verified Purchase
Great tinted sunscreen
This product is great to use under makeup or alone as it has a tint to it. I use it for exercising outdoors when I don't want to wear makeup and it gives my face a healthy look while protecting it from the sun. Best tinted spf
I have been using Elta MD for years and while I still love all of their products. This daily spf leaves me a little less shiny and I like this tinted version better. I will likely switch between this product and my tried and true Elta MD. LovelySkin Customer
Verified Purchase
No need for makeup!
This is the perfect last step of morning skincare routine. Most days I don't wear foundation after using this because it evens out any redness. megmar182
Verified Purchase
My Fave!!
I have been using this lightweight, nongreasy, easy-to-apply, matte finish, and delicately tinted sunscreen for years and I won't use anything else. In the past, I suffered from rosacea and I continue to have skin sensitivity issues but this sunscreen works without causing any issues. My husband has started to borrow it as well. It even lasts all day during mountain biking, boating and other outdoorsy activities (although I'm sure the published recommendations require you to re-apply). I am never that organized but neither do I burn so it's a winner with me. LovelySkin Customer
Verified Purchase
Luminescence in a bottle!
I've been using this amazing product for years. I use it every day as my daily sunscreen, but it functions like a BB cream - it goes on so beautifully - like silk, and aborbs immediately. It provides just a slight sheen of coverage that looks very natural - no need for foundation. And it lasts forever - just a nickel sized dose is all you need for face and neck. LOVE this stuff - it's well worth the price. BuckDancer
Verified Purchase
Love it!!
I have used this sunscreen for over 5 years. Love the light coverage. Never gets in my eyes when I sweat. Use it everyday. Thank you SkinCeuticals!!! LovelySkin Customer
Verified Purchase
The best
I have used this for 5 years now. It makes my skin look better. Not a strong color but just enough. My husband even started using it so he can reapply during the day and not have a white pasty look, and no one looks so closely that they will see any hint of color. LovelySkin Customer
Verified Purchase
I like this product
I keep trying from time to time different products, but I keep coming to this product. If I using this product, I don't need any make up after that, my skin is protected and have fresh look. I like that is gluten-free to, I am very sensitive to gluten products.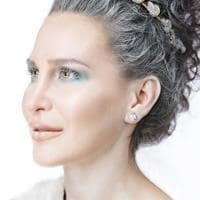 Excellent sunscreen
I have used many other sunscreens and have been reasonably satisfied with them. I bought this one because I am a fan of SkinCeuticals' products and thought I would give it a try. I'm very glad I did! The weight of the sunscreen is perfect. It provides a nice ,light amount of tint and doesn't become white upon application. I'm not sure I really need an SPF of 50, but I will continue using this product. Very good sunscreen
This sunscreen goes on smooth, isn't at all sticky and doesn't leave a white film on skin. Works well as a base for makeup. Will purchase again. LovelySkin Customer
Verified Purchase
Use this every day
I wear this tinted sunscreen every day, and get frequent comments on how nice my skin looks, and that I look much younger than my age (69). My dermatologist told me to keep doing what I'm doing when I went for my annual checkup. I like that it is not greasy, evens skin tone without looking pasty and is easy to apply. A little goes a long way. Highly recommend. Lindajoy
Verified Purchase
Great lightweight mineral sunscreen
Love the slight tint and lightweight feeling to this sunscreen. I have used it everyday since I received it and it does not cause me to breakout, even during outdoor sweat sessions. I will definitely buy again! MLongo78
Verified Purchase
My favorite!!!
I'm so glad I found this, I will wear this and only this sunscreen from now on! Feels lightweight and sheer coverage and good for sensitive skin. LovelySkin Customer
Verified Purchase
Spf
Lightweight and easy to blend. Tint is perfect. LovelySkin Customer
Verified Purchase
Definitely my favorite!
Best sunscreen I've tried Light, non greasy, everyday use! Love it! Light but effective
Have always wanted tinted sunscreen and finally found it! This is super lightweight, has only a little color but enough for a slight bit of coverage. The SPF works - I ride my bike for 2-4 hours at a time and this has blocked all the sun. I will definitely buy this from now on. Had to return this priduct
This sunscreen hurt my face when I put it on it also dried my eye area out like no other. I'm not sure if I was allergic to something in it but my face was literally sore after having it on. I tried for a few days but just couldn't do it anymore. The formula is like liquid coming out. I do not believe it provides a good tint for being tinted moisturizer. I've tried many. This is the worst. LovelySkin Customer
Verified Purchase
Cult favorite!!!
This is an amazing product!! It goes on smoothly, matte and never creases. During COVID, I've used this as a combination sunscreen and foundation. However, when I choose to wear foundation, I find this product is a great primer that works great under my liquid base makeup. I even bought one bottle for my husband: he hates the white cast that other sunscreens leave. I actually wish this was affordable enough to wear as a whole body sunscreen! LovelySkin Customer
Verified Purchase