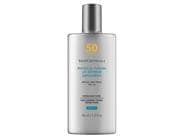 Reviews For
SkinCeuticals Physical Fusion UV Defense Tinted Sunscreen SPF 50
$34.00
Good base, no coverage
I'm usually a fan of SkinCeuticals but this product doesn't have much coverage. You'll definitely need to put a foundation in top. LovelySkin Customer
Verified Purchase
Like the product, hate the bottle...
I really do like this sunscreen as it is very lightweight and doesn't make me feel like I'm really wearing sunscreen at all. Also the tint is a nice touch because it doesn't leave any white residue. However I'm wildly surprised and disappointed in the bottle design, especially coming from SkinCeuticals. As soon as I unscrew the top, the liquid starts pouring out of the top - EVERY time. And the little hole is so tiny it's impossible to put any back inside, so I rush to rub it on my face and then put the extra on my chest and back of my hands. It's pretty frustrating. To be honest, I don't think I will buy it again LovelySkin Customer
Verified Purchase
Just ok
Not a huge fan, this has a light liquid consistency. I really like IT Cosmetics SPF tinted moisturizer with 50 SPF if I'm going to wear makeup poolside or at the beach. I am very happy with other SkinCeuticals products but this doesn't do much for me. It may have to do with the color. If it came in different shade that might help. Kriss2clark
Verified Purchase
Not my favorite
I liked the tinted aspect but the consistency was not my favorite. It is probably just not right for my skin tone, left me looking a little shiny and I didn't like the feel of my skin with it on. I also got a little redness after being in strong sun, maybe I didn't apply a thick enough layer. I'd use it for a day when I'm not in intense sun but otherwise I'll be using something else. LovelySkin Customer
Verified Purchase
Gritty Texture
Love the brand, the tint is light. I like that it is thin in consistency.....but it has a fine gritty texture . Disappointing . LovelySkin Customer
Verified Purchase
No Expiration Date on 125 ml size!
I typically buy the smaller size (1.7 oz.), but since I use this sunscreen a lot, I bought the 125 ml (4.2 oz.) bottle. The larger size does not have an expiration date! When I called to ask why there is no expiration date, I'm told the product is stable for 3 years and therefore the manufacturer is not required to print expiration dates on the larger bottles. It's ludicrous that a sunscreen has no expiration date!! It expires 3 years from WHEN exactly? I have severe sun allergies and it's very important for me to wear sunscreen at all times. I find it crazy that the manufacturer can get away with not printing the expiration date on the product and Lovely Skin does not share this in the product description. I am returning the product and I have to pay for the shipment back to LovelySkin and also spend the time to go to the post office to mail it! I'm told it's not their policy to provide shipping label for returned products even though it was not my fault they did not provide accurate description stating that the larger bottles DO NOT have expiration dates. skinmaven
Verified Purchase
Nice Texture but not for me
The tint was faint and not heavy at all. However, this sunscreen irritated my skin. I've switched to mineral sunscreens. LovelySkin Customer
Verified Purchase
Slightly opaque
The product went on smoothly and was not at all oily. I was able to apply my foundation easily but my skin had an opaque cast. I purchased the product believing it was basically invisible, but I didn't like the ghostly pallor it gave me . LovelySkin Customer
Verified Purchase
Not the right consistency for me
This was the first product I've ever returned after years of being a LovelySkin customer. It was very thin not even a lotion consistency–almost like a watery substance. I found it hard to administer. Because it gets a lot of good reviews & a "staff favorite," it must appeal to many people, just not me. I am sure the quality, as with all these top brands, is there. Ah well, my search for a tinted sunscreen that looks natural, isn't too thin or thick, too greasy or too matte - continues! LovelySkin Customer
Verified Purchase
On the fence with this
I love the coverage, lightweight feel and ease of application, but it's hard to remove completely and makes my face drier after using it for a few days. I have dry skin, and this was recommended for my skin type, but even over my moisturizer, it is still drying. I recommend using a face wipe or oil to remove this. Great but shiny!
Feels nice when applying - quite runny compared to others but feels light - as it's mineral based it works well with my Retinol cream etc I love the fact it has some built in color but it doesn't look fake. My only gripe is ... my face looks so shiny after using it, have to dust my face with powder to knock it down, but within an hour I am shiny again. I won't be re-buying for that fact. Skinceuticals
I'm sure this is a good product. Unfortunately, I had an allergic reaction. I will stick with the obagi matte sunscreen which gives me good results. LovelySkin Customer
Verified Purchase
Just Okay
I'm not particularly impressed with this sunscreen. I was hoping to be able to use it in place of a BB cream since it is tinted. Unfortunately, it really didn't do much for my skin. And though initially there is no white cast, one does seem to show through after a half hour or so. I also am not a fan of how fluid it is. It is so runny that it tends to be messy. I prefer a sunscreen that is a little thicker. On the plus side, it plays well with makeup. I don't dislike it, but I don't like it enough to repurchase. LovelySkin Customer
Verified Purchase
Not bad
I think this product makes my skin very dry. I don't think I will use it again. LovelySkin Customer
Verified Purchase
SkinCeuticals physical fusion up spf 50
I've been using this product for 3 years. I use it everyday. It works. The coverage is light, blends well, easy to use. I've tried many other products but this is the best, I am never without it. LovelySkin Customer
Verified Purchase
i have expected a little bit more
I live in sunny country 365 days of the year, I specifically bought this spf to protect me during the days when I use retinol products at night. I have combo dehydrated skin. The formula is very very oily and it has a very strong chemical scent (I am not that sensitive to the scent usually). Just remembering how it smell puts me off from using it. However after I have a peel treatment my skin becomes more normal - oily (around for a month) and I am able to use it more often. If you layer some before and then put another layer once absorbed, it is not that oily. Bottom line: not for combo-oily skin, and applies best by layering. LovelySkin Customer
Verified Purchase
skinceutical physical fusion UV defense
This is my first time using this product.. I don't feel that the tinting provides any coverage and a short while after applying my face had a slight burning sensation. The other product I have used provides a bit of coverage with the tinting and it also has a higher SPF. No burning.. I will not purchase again. LovelySkin Customer
Verified Purchase
Good
I think your skin really needs to be exfoliated before using this. I do love how it evens out my skin tone, but my face tends to look dry with it on sometimes. Im in search of a good moisturizer that I can put on underneath it. Good
At first, this tinted formula looks a lot darker than my skin (I have moderate-fair skin) but It did not look odd on my face. It was just OK. but It does have some kind of grey-sh shade in it. I have extra sensitive skin and every time when I apply this, I could feel something irritating my skin for a short moment. I still dont know why but It didnt make me to break out. LovelySkin Customer
Verified Purchase
Perfect, but broke me out
I really wanted to love this product. Besides the size of the bottle (tiny for the price), I loved everything about it. The sunscreen feels oily when you first apply it but within a minute, you feel nothing but dry, soft, skin. No glaring shine, and definitely none of the unflattering white translucence you get from other sunscreen. I also felt that the little tint it had also somewhat covered up my redness. Could be used a a primer! BUT. A day after I started using this sunscreen, I started getting zits, small and large, painful and not painful, all over my face. I have a somewhat sensitive skin and cant use certain products like Bobbi Brown (another unfortunate..) without breaking out but hadnt expected this one to break me out. I stopped using the product after the first day and within 2 days, most of the zits are gone. So I had correctly identified this sunscreen as the zit-producing factor. I read somewhere after purchasing this product that it contains some ingredients that can clog pores. Perhaps those are the culprits. LovelySkin Customer
Verified Purchase
too dark for really pale skin
This is an elegant, lovely product which would work really well for most people, including people with sensitive skin as it does not clog pores. It does not leave a white cast or a sheen, it is not greasy and it caused no breakouts for me. However it was too pale for my superpale (NC15) skin and it made my skin look dirty. They should come out with a lighter shade - I would definitely buy it. LovelySkin Customer
Verified Purchase
great for nonsensetive
This sunscreen did not work on my sensetive skin, but it works great on my boyfriend's. He is in love, is a must have during summer time