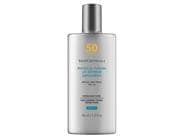 Reviews For
SkinCeuticals Physical Fusion UV Defense Tinted Sunscreen SPF 50
$34.00
UV Defense Tinted Sunscreen SPF 50
My dermatologist recommend this sunscreen for my melasma. It happens to be the only sunscreen that works. I was skeptical at the beginning because many other sunscreens I have tried did not work well with my condition, but I have to say that I have not gotten any additional dark spots while using this sunscreen. Great product! LovelySkin Customer
Verified Purchase
Lightweight Silky Smooth
This tint sunscreen gives just a hint of color to my face while protecting from the sun's rays. Goes on smooth and is lightweight. LovelySkin Customer
Verified Purchase
Best sunscreen!
I am 61 with moderate sun damage and I have tried a lot of sunscreens over the years; many have been very good, but SkinCeuticals Physical Fusion UV Defense Tinted Sunscreen SPF 50 is absolutely the best. I reserve it for face, neck, and chest. No breakouts, great coverage, no white tint despite being exclusively a physical sunscreen which is what I prefer. I love how its light consistency and perfect blending tint. The bottle may seem small, but a little goes a long way. Be careful dispensing because it has a watery consistency. LovelySkin Customer
Verified Purchase
Great Sunscreen
This is one of my favorite sunscreens. The tint blends well with my skin tone. It is also very light and goes on well. Freckle419
Verified Purchase
Love this
This is terrific sunscreen that has a little tint to it. It goes on my skin so nicely and looks so natural. I tried this because the other brand I was using the tint was just too dark but this one is perfect. I am now a believer and will continue to use this !! LouiseB
Verified Purchase
A summer must have!
I can't go a day in the summer without this! It's super light weight, spreads on skin smooth. The tint is great for evening out skin tone too! It's a high SPF & water proof so perfect for hot summer days (although I do wear it year-round). It's such a nice "clean" feel that won't clog pores- my teenager loves it too! LovelySkin Customer
Verified Purchase
Great!
I've used both the tinted as well as the non tinted version of the product. I like the tinted version much better as it disappears into your skin. It protects my skin well and works great under makeup. LovelySkin Customer
Verified Purchase
Just ok
Not a huge fan, this has a light liquid consistency. I really like IT Cosmetics SPF tinted moisturizer with 50 SPF if I'm going to wear makeup poolside or at the beach. I am very happy with other SkinCeuticals products but this doesn't do much for me. It may have to do with the color. If it came in different shade that might help. Kriss2clark
Verified Purchase
Does the job
I have used this for years. Everyday! It goes on smooth and the light tint gives a little color. It seems to have stopped me from getting more sun damage. LovelySkin Customer
Verified Purchase
Wear everyday!
Every day I wear a sunblock and now using this one after my other morning SkinCeuticals products. So far I love it! The slight tint, not white is nice and can wear alone or put my makeup on over it. I have sensitive skin and no reactions. LovelySkin Customer
Verified Purchase
Amazing!
Love this stuff. Great coverage. Really evens skin tone Tammi12345
Verified Purchase
My favorite sunscreen by far
I have worn this now for 3+ years, daily, and I am very happy with it. It has been a lifelong quest to find a good mineral sunscreen that does not make me breakout. You must shake the bottle, and it does look a bit shiny when first applied, but that goes away quickly. I don't wear foundation, and for me this gives just enough coverage (I'm okay with imperfections showing through.) My husband now wears it and it doesn't look like makeup on him at all. I am in the sun a lot for work and exercise, and this does a great job of holding up. I do need a light serum/moisturizer underneath it. LovelySkin Customer
Verified Purchase
Tried and true
Although this is not one of the trendiest on the market, I have been using it for years and I don't plan to stop. Originally recommended by my dermatologist due to its mineral properties. It's light, comfy and tinted just enough that it passes for makeup- so much that it gives me an extra boost during these current stay-at-home times. LovelySkin Customer
Verified Purchase
Fusion 50
I live in Florida year-round and tinted sunscreen has replaced foundation for me. Excellent product for aging skin. Clearwaterskin
Verified Purchase
Best tinted sunscreen
I love this tinted sun screen! I have ordered it 5-6 times now. The larger bottle lasts about me about 4 months so it's well worth the cost. I suffer from hyperpigmentation/melasma that is exacerbated by sun exposure. Since using this product, I have not experienced any new sun damage! It goes on smooth and wears well under make-up. I've tried a dozen other comparable tinted screens but none of them compared. SarahSlayton325
Verified Purchase
Fresh, sheer, effective
First time I purchased a quality sunscreen like this. I am forever converted. Applies nicely, no odor, (and for 2020 - does not stain my face mask!). I live in Florida so this will be a forever daily routine. Also, a little goes a long way. Best sunscreen for your face
I use this every summer! Great quality, isn't greasy at all. I buy 3 every summer. Cmd02007
Verified Purchase
The search is over
Most tinted mineral sunscreens are simply too dark for my complexion, but this product not only blends perfectly into my skin, it blurs imperfections and evens my skin tone. Love it and highly recommend! LovelySkin Customer
Verified Purchase
So Lightweight
This is one of my favorite sunscreens because it's so lightweight. It's non greasy, but most importantly protects my skin from the sun. I love how I can customize the shade by adding a drop or two of Dermablend Flawless Creator. I pat it into my skin, wait a few minutes, then gently blend it in with sweeping motions. I have dark brown skin and it doesn't leave a white cast if applied this way. MomofIrishtwins
Verified Purchase Perfect fit for helping with my melasma
Easy to apply. The tint is perfect for my skin tone and conceals some of my melasma. I eliminate the shine with a mineral foundation powder. Only downside is not being able to use a bb cream over it as the cream brings,out the white of the zinc oxide making it look 'cakey'. Otherwise I wouldn't know it is zinc oxide. Hasn't made me break out or cause any irritation on my face. Seems to be doing it's job well. LovelySkin Customer
Verified Purchase
SkinCeuticals SPF
Highly recommend this product. Works well and I especially like the light tint for summer. Consistency is nice - not too thick and doesn't irritate my skin. PennyAnte
Verified Purchase
Great Sunscreen
This sunscreen evens out my complexion and best of all it doesn't sting my Retin A sensitive skin. LovelySkin Customer
Verified Purchase
Skin Ceuticals UV Defense
This tinted SPF gives you a nice glow but I don't like how runny it is when it comes out of the bottle LovelySkin Customer
Verified Purchase
SkinCeuticals Physical Fusion Sunscreen
I like this sunscreen. It's really lightweight and not greasy. The reason I only give 4 stars is because I don't like that its tinted. LovelySkin Customer
Verified Purchase