Hot Products
LovelySkin Gift Guide: Jetsetter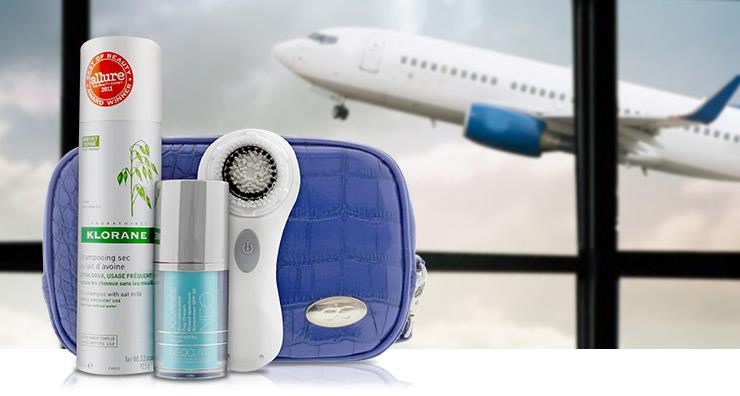 If there's a special someone in your life who is always traveling for business or pleasure, you'll want to get them a gift they can stash in their suitcase and use on the go. At LovelySkin, we've compiled a list of handy traveling companions to help you choose the perfect present for your favorite jetsetter. Fun, innovative and useful, your loved one won't want to leave home without any of these top picks.
LATHER Road Warrior Men's Survival Kit is the ultimate travel-sized personal care solution for guys on the go. It includes Sea Kelp Body Wash, Mint Thyme Hair Wash, Bamboo Silk Foaming Face Scrub, Almond Shave Crème, Shine Control Face Lotion, and Spearmint Lip Balm – Broad Spectrum SPF 15, all in a convenient microfiber zippered travel bag!
Jack Black First Class Five Travel Set includes five men's traveling essentials to keep his skin care and shaving routines on the up and up while he jets from place to place. It includes Beard Lube Conditioning Shave, Double-Duty Face Moisturizer SPF 20, Eye Balm Age Minimizing Gel, Intense Therapy Lip Balm Natural Mint & Shea Butter and All-Over Wash in a sleek, black zippered bag.
There's nothing like a great multipurpose product to save time and space while you're traveling. Neocutis Journee is an elegant cream that uses PSP and a potent blend of antioxidants to help reduce the appearance of fine lines and wrinkles. It also intensely hydrates the skin, and it even offers an SPF of 30, making it a sightseer's best friend.
For a skin-cleansing device that is small enough to fit in a carry-on, but powerful enough to eliminate even the toughest dirt, makeup and oil, choose Clarisonic Mia1 in White. With its interchangeable brush heads, it's easy to customize a routine for every skin type. An international charger allows her to take it all over the world so that she can achieve her cleanest skin anywhere.
After a long flight, skin can become overly dry and sensitive due to lack of humidity aboard the plane. The advanced, medical-grade ingredients in Obagi Gentle Rejuvenation Skin Rejuvenation Serum help to hydrate the skin, smooth fine lines and wrinkles and boost collagen, creating a more energized, youthful appearance.
Breathe life into dull, oily hair between regular washes with soothing Klorane Dry Shampoo with Oat Milk Aerosol (Travel-Size). The unique blend of plant-based ingredients has the power to absorb the excess oil that leaves hair limp and lifeless. A few spritzes of this dry shampoo will have tresses volumized and ready for styling. She can use it throughout the day for a quick pick-me-up.
Taking public transportation means being exposed to a plethora of germs. CLn BodyWash helps to eliminate bacteria and soothe the dry, scaly skin that is caused by dehydration and conditions such as eczema and psoriasis. This non-irritating wash is as effective as a bleach bath, but gentle enough for even the most sensitive skin types.
With Lumixyl Topical Brightening System Travel Kit with GlycoPeel 10, your loved one doesn't have to put treating dark spots and hyperpigmentation on hold when she travels. This TSA-friendly kit contains groundbreaking peptide technology to lessen the overproduction of melanin. It includes Active-Prep Gentle Foaming Cleanser, Topical Brightening Crème, GlycoPeel 10 Brightening Exfoliator and MoistureLock Sunscreen SPF 30 so that she can address uneven skin tone every step of the way.
Cool-it Caddy Ice Pops is a zippered bag with a fully insulated interior that helps keep sunscreens, serums, makeup and other heat-sensitive items fresh and cool during travel. Just pop the empty bag in the freezer prior to departure and place items inside once it's cool to keep them protected from temperature shifts all day. Ice Pops comes in four fun colors so that you can please everyone on your list!
Don't let her heavy professional hair dryer weigh down her bag. T3 Featherweight Journey Travel Hair Dryer features state-of-the-art technology in an incredibly compact, lightweight body. It comes with a convenient 9-foot cord and two heat/speed settings that allow airflow control for any hair type. The folding handle helps save space while the universal voltage ensures that it'll pull through no matter where she's jetting off to!
Shop all the products in this guide. For even more ideas for everyone on your list, check out all of our LovelySkin gift guides.
What are you giving the jetsetter on your list this holiday season? Let us know in the comments section.
Shop This Blog
Highlights
A travel set for any man that is on-the-go.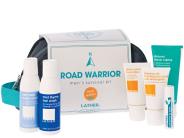 Quick Shop +
Highlights
Ideal for men
Provides a complete daily routine
Travel-friendly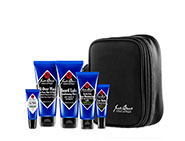 Quick Shop +
Highlights
Provides SPF 30+ protection
Diminishes fine lines and wrinkles
Covers flaws with a universal tint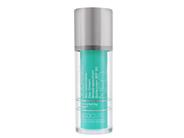 Quick Shop +
Highlights
Improves uneven tone and texture
Boosts collagen synthesis
Diminishes fine lines and wrinkles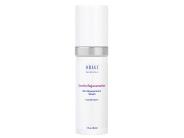 Quick Shop +
Highlights
Adds volume
Absorbs excess oil and buildup
Travel-friendly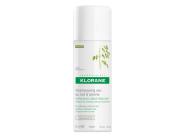 Quick Shop +
Highlights
Best suited for irritated skin
Calms eczema
Non-drying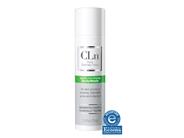 Quick Shop +
Highlights
Reduces melanin production
Fades dark spots
Maintains an even skin tone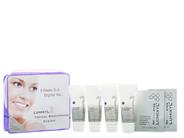 Quick Shop +
Highlights
Ideal for travel
Keeps products cool
Protects against heat damage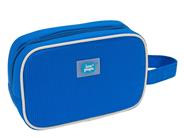 Quick Shop +
4 colors
Highlights
The T3® Featherweight Journey travel dryer is state-of-the-art technology for hair in an incred...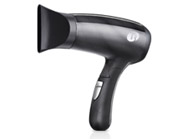 Quick Shop +