Hot Products
Transformation Tuesday: NeoStrata Skin Active Triple Firming Neck Cream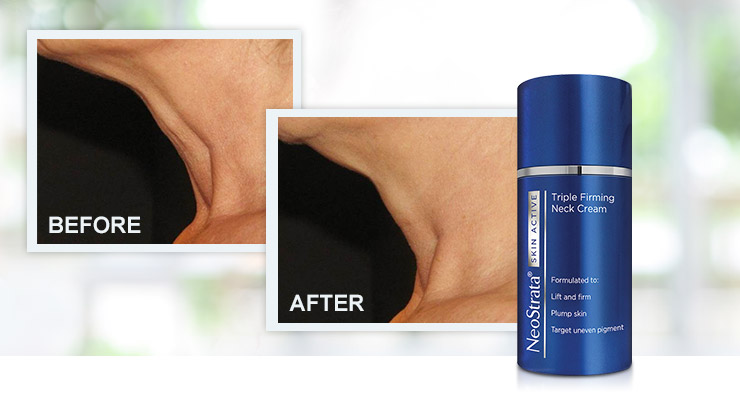 If you are starting to see signs of aging on your neck and chest area, you are not alone. This is a concern that many of our customers address with us daily. Because the skin on the neck is thin and receives a large amount of exposure to the sun and free radicals, it is susceptible to signs of aging including loss of firmness, sagging and fine lines. To deal with this area, we recommend NeoStrata Skin Active Triple Firming Neck Cream, which is proven to provide results. Find out how this product has the power to transform your skin.
Some of the key ingredients in this cream are Pro-Amino Acids and NeoCitriate, which support the production of new collagen within the skin. This gives the skin a smoother and more plumped appearance while diminishing the look of fine lines. NeoGlucosamine, a patented ingredient, builds the supporting skin matrix to improve firmness and elasticity. Finally, this anti-aging cream contains apple stem cell extract, which helps repair damaged cells to create a more even tone and a smoother texture.
These powerful ingredients are part of a hydrating formula that keeps the neck and chest area soft and smooth. The formula is paraben-free so it is ideal for most skin types. You should apply this anti-aging cream twice a day to the neck and décolletage in upward motions for the best results.
Dr. Joel Schlessinger saw firsthand the results of this incredible product. He served as the principal investigator for a clinical study on this neck cream and was able to see the improvements in his patients over the course of the study. His patients saw an improvement in laxity, crepiness, pigmentation and wrinkles along the neck and jawline after eight weeks of use. You can see before and after photos of the results here.
Because of the incredible results, Dr. Joel Schlessinger believes that this neck cream is one of the most effective topical solutions for signs of aging on the neck and chest on the market. The results of this exciting study are about to be published in a respected dermatology journal by Dr. Joel Schlessinger.
Have you tried NeoStrata Skin Active Triple Firming Neck Cream? Let us know what you thought in the comments!
Shop This Blog
Highlights
Firms and tightens the neck area
Plumps and rehydrates skin
Smooths rough, crepey skin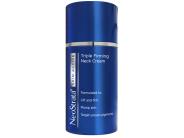 Quick Shop +
Connect with Us!