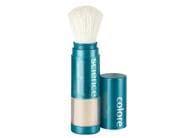 Reviews For
Colorescience Sunforgettable Mineral Sunscreen Brush SPF 30
$57.00
A healthy way to keep looking good through the day
Every two hours you should make sure to retouch your spf to protect you from sun damage! This product helps you do that and at the same time retouch your makeup from looking shiny! Great product, amazing quality! LovelySkin Customer
Verified Purchase
The best sunscreen!
I have used this for years and it is the only sunscreen that my skin will tolerate. No rashes or breakout. One is always in my bathroom and in my purse. LOVE!!!!
This powdered sunscreen has the perfect light coverage that I have been looking for. It makes it very easy to touch up my sunscreen throughout the day and doesn't clog my pores. LovelySkin Customer
Verified Purchase
Perfect for re-application of SPF
I bought this at the suggestion of a friend who was loving this. She was recommended this from her derm to help prevent sunspots. Her derm let her know that she believed her sunspots were due to a lack of reapplying her SPF throughout the day as she had previously only been wearing it in the morning. I was the same way, spf in the morning and I would forget about it, but I have developed so many sunspots that I am now really on my SPF game and reapplying throughout the day. This is the perfect product to reapply with as I can take it anywhere and dust it on even when I have full makeup already on. Just OK, not worth at $65
Leave a white cast like a layer of chalk. For reference I bought the color Medium. LovelySkin Customer
Verified Purchase
Easy to use
I really like how easy and convenient this is to use. I just throw this in my purse and take it out when I need to reapply. Easiest Sunscreen You'll Ever Use
I like a pared down, simple makeup routine in the summer. This product definitely fits the bill. Who doesn't love a two in one. Powder gives the perfect amount of coverage and reapplication throughout the day is easy. Really love it!!
This product was recommended to me by a dermatologist. It's terrific. I carry one in my purse for a quick re-apply of SPF. Have not burned yet. LovelySkin Customer
Verified Purchase
Easy and amazing product
This has made reapplying sunscreen so easy. I bring it everywhere I go and when I need to reapply all I do is brush it on. Colorescience is one of my favorite brands they make the most innovative and amazing products. LovelySkin Customer
Verified Purchase
Good one
I like this. I bought this one, the spf 50 and spf 20 Foundation one. I don't like the spf 20 Foundation one at all. It gives me a dull chalky look. I like both the spf 30 & 50 though. To be honest it's hard to tell the difference between the two when I put them on. I finally did half of my face with one and half with the other and even still it's hard to see a difference. The very slight difference that I see is that the 30 seems just slightly thicker- teeny tiny bit more coverage. But because there's not a noticeable difference for me, I'll probably stick with repurchasing the spf 50 one. But I do like this one and have zero complaints! LovelySkin Customer
Verified Purchase
Amazing powder & sunscreen
I had been on the fence for months about purchasing this product- I had heard it was difficult to get powder out and the applicator was not easy to use. After initial short learning curve and seeing what the powder looks like - this is a very easy product to use for myself when I want the following: Either Over foundation or tinted moisturizer with out sunscreen already ( or with it underneath) and as a finishing powder to set make up creating flawless look but no orecloggjng and all natural finish Or To touch up both sunscreen ( esp) and make up ( blemishes/uneven skin tones, etc) and shine throughout day - just to look more even and less - the night make up look on a day when u don't want that! Or by itself !! Bc it has great natural coverage and amazing sun protection!!! Cuteowl99
Verified Purchase
Handy and travel friendly
Excellent for touch ups! LovelySkin Customer
Verified Purchase
Best continued protection
This powder is the best, most convenient continued sun protection during the day. It applies easily, doesn't cake, has a nice tint, and best of all keeps my face protected. Couldn't ask for anything more. LovelySkin Customer
Verified Purchase
Extra protection
This powder sunscreen is perfect to carry in your purse or car to easily freshen up your sun protection. I use a liquid protection under my makeup but always keep this non-irritating product for use over makeup or when I forget to apply to my liquid sunscreen. It is invisible on the face, does not clog pores and a must have. LovelySkin Customer
Verified Purchase
SPF Touch Up Perfection
I'm a big fan on this product for touching up SPF during the daytime. The mineral formula is good for my skin, won't cause breakouts and feels super light on skin. AndreaNYC
Verified Purchase
Love love love
Love this stuff! Works beautifully. Great coverage!
Very pleased with the color and how easy it was to apply. Looks like I spent all day applying makeup! LovelySkin Customer
Verified Purchase
Perfect Solution to Hot Sunny Days
This is the first mineral powder sunscreen that I love using. It is the perfect solution to summertime shine and those harmful rays. After it sets it doesn't look like a bunch of makeup caked on, just a matte, refreshed face. The shade is a little lighter than expected, so next time I will order a shade darker. gokaren
Verified Purchase
Colorescience Sunforgettable Mineral Sunscreen Brush SPF 30
Great product!! Looks really nice on my skin. Will repurchase LovelySkin Customer
Verified Purchase
Great Over Makeup!
This is great to re-touch your sunscreen while using makeup! Easy application, very light and powder and smooth brush! Great size to fit on the purse! LovelySkin Customer
Verified Purchase
Very light feels like nothing on your skin
I ordered this in color medium hoping this will also give some color too. Their medium is very light and doesn't have much of the color. So I returned this. What felt nice about this powder brush that it is very finely milled and feels like nothing on your skin. This is very shear and in my opinion is better used with foundation or another tinted spf or moisturizer... Product is difficult to apply
No matter how many times you stroke your face with the brush, it's difficult for the powder to come out and apply to your face. I tried shaking the applicator to try to "loosen" the powder and help it come out, but instead powder rushes out of the brush and gets on you. But strangely when you try to apply after shaking, the powder still won't come out. Was hoping to use this when I'm outdoors or at the beach when quick reapplication is needed, but ended up being a bust. Might have just received a faulty product because there are many great reviews online elsewhere. LovelySkin Customer
Verified Purchase
Colorscience mineral Sunscreen in color Medium
I bought this product after reading that Joanna Gaines uses this. I'm so happy I stumbled across that article because this is one of my favorite products. I am extremely prone to breakouts when I wear sunscreen. I think that since this is a powder mineral sunscreen, it caused no irritation or breakouts on my skin. I wear it on runs to protect my face from the sun. I wear it gardening, on days I only want light make up and over a full face or makeup. I've put it over hormonal blemishes and it didn't irritate them at all. It's a great product and I totally recommend. I'm not really fair and not tan either and the medium color works great. I've tested this product in the sun 6 hours gardening and my face was not burnt at the end of the day. EmilieCarr
Verified Purchase
Stopped Working
Per Colorescience, you will know if the product is working correctly when you swipe your finger across the brush and the product "poofs or puffs" out. This stopped working for me after a few days. I did all of the hacks recommended by Colorescience and I still could not get the product to dispense. I am disappointed because this seems like a great product but with a poor dispenser. Kohlmk49
Verified Purchase
Mineral sunscreen
I love this product! I use it as an extra layer of protection over my foundation with SPF and sunscreen during the summer months. LovelySkin Customer
Verified Purchase