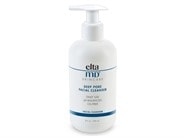 Reviews For
EltaMD Deep Pore Facial Cleanser
$25.00
For me it wasnt the answer.
Since Ive hit my mid 40s my skin has started to change. My face has always been on the oily side & prone to something between a breakout and a rash, but now cleansers are giving me dry skin, mostly around my mouth, chin & nose. Iv been using Elta MDs Clear Zinc 46 Sunscreen and it has been wonderful, very minimal breakouts and very little shine. So I thought the cleanser might be work as well, but for me no. It also caused drying, less than some of the other cleansers Ive tried but still drying. Sadly, my quest for the right cleanser continues. LovelySkin Customer
Verified Purchase
Irritated skin and eyes
Ive been curious about this cleanser because I love the EltaMD UV Clear Sunscreen so much. The cleanser does well at cleaning my face, but unfortunately, the orange oil irritates both my eyes (even though I male sure to avoid my eyes while washing) and my sensitive skin. I wish they made the cleanser fragrance free.