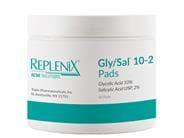 Reviews For
Replenix Acne Solutions Gly/Sal 10-2 Pads
72 Results
Amazing
Works great, strong yet not irritating LovelySkin Customer
Verified Purchase
Glycolic/Salicylic Pads.
I use these pads after cleansing then apply moisturizer. Great product. Keeps blackheads at bay. SunshineGirl
Verified Purchase
Replenix Pads
Effective, but a bit harsh. LovelySkin Customer
Verified Purchase
Decent
Nice to use at nighttime but wouldn't recommend for the morning Sgarabin
Verified Purchase
These pads work!
Replenix is the brand that I go to for my adult acne and these pads work! Your skin should definitely be conditioned for this strength of glycolic acid otherwise it will cause major sensitivity to the product. Otherwise, these pads are wonderful and really work on acne and aid in giving your skin a nice glow. RhondaR
Verified Purchase
Fairly strong
These appear to be helping my teenage sons acne somewhat. They're easy to use which is very nice. Perfection
I have oily acne prone skin and this product leaves my face clean without drying it out. After 4 weeks of using, I've noticed that the texture of my skin has improved. Game changer, definitely recommend this! AllisonE
Verified Purchase
Highly Recommended !
Gly/Sal 10-2 Pads have helped my summertime break outs! Not drying to my face but enough to knock down my break outs. LovelySkin Customer
Verified Purchase
Multi Use
I have been using these to brighten skin and as a gentle exfoliator. So far, so good! LovelySkin Customer
Verified Purchase
Great for my son's teenage acne!
These pads have worked wonders. Sometimes it is tough to get your 16 year old to wash his face in the morning, after sports practice, at night; but when he is too lazy to do that, he uses the pads! They are also convenient for him to take to all his practices to wipe down his face afterwards, so the oil and dirt doesn't sit there. Definitely recommend! LovelySkin Customer
Verified Purchase
Amazing results!
I purchased these pads to help me control my acne and to help me exfoliate my skin in order for my facial products to be absorbed better. Very happy with the results. These pads do work. I had to build tolerance. It can tingle a bit of your new to glycolic treatments. Very happy with the results, my face feels smooth, it clearer, and my makeup and treatments get absorbed better. YolieCarlton
Verified Purchase
Skin Looks Healthier!
Noticing that my skin appears smoother, visual reduction in pores and reduction in discoloration after only 1 month of use. I use 1 pad every night after cleanser and follow with a moisturizer- it still picks up a lot of make up off a clean face! It does have a mild sting, especially on acne or cuts. Also tried using the product twice a day as recommended, but experienced dryness and redness. However, it's replaced the "astringent/toner" part of my nightly regime and I love the product! RPisklak
Verified Purchase
Blackhead Buster!
I use these pads a few times a week right after getting out of the shower. They help me keep my blackheads under control, especially on my nose, and also help me keep my face smooth and clear. Powerful but yet I have found them to be pretty gentle on my face. Mullavey
Verified Purchase
gly/Sal surprise
I received this product in one of my orders as a sample, and when I tried it I could not believe the results that I instantly achieved! I had some clogged pores that my dermatologist said I would need to use retin A or get zapped to clear up. Well after one pass with the sample, I woke the next morning with clear and soft skin! No more clogged pores! So I ordered and have enjoyed ever since! LovelySkin Customer
Verified Purchase
Good value
These are intense Gly/Sal pads, so be sure this is the level you need. If you are not accustomed to higher concentrations, this will tingle. A little bit of comparison shopping will reveal that these are a good value for the quantity you receive and the potency of the formula. Gorgongirl
Verified Purchase
LOVE THESE PADS
I started with the 2-2, then 5-2 pads. They're all effective, but of course, the 10-2 is the strongest. I love these pads. I use them anywhere I have blemishes, acne and old acne scars. I am so happy to have finallyyyy found something that is fading my old acne scars/dark marks and also maintaining its smooth texture. LovelySkin Customer
Verified Purchase
Great cleansing pads
These pads are great for banishing blemishes and exfoliating skin! LovelySkin Customer
Verified Purchase
Great
I use these nightly and have noticed my skin looking brighter with each use! LovelySkin Customer
Verified Purchase
Helps manage breakouts
My dermatologist recommended this product for my combo skin breakouts, and it really helps to manage oiliness and reduce scarring! It takes a few weeks to see results, and it's important to start on the lower salicylic products (I did 2-2, then 5-2) because your skin establishes an immunity overtime to the acid. Works
I use this after washing my face with Replenix facial scrub. It has cut down on my breakouts without being overly drying. I recommend this product. LovelySkin Customer
Verified Purchase
Works well
Manages acne fine, but doesn't necessarily prevent breakouts. LovelySkin Customer
Verified Purchase
Acne pads
Great to intermix with Exuviance resurfacing pads. More gentle option IMO. LovelySkin Customer
Verified Purchase
Perfect for humid summer
I can't apply acne lotions in humid conditions because they sweat off instead of absorbing. I wipe a Replenish pad--and I know it works because it stings a bit--and apply sunscreen 45 over. It's helping to minimize the sweat-induced acne I get every summer. LovelySkin Customer
Verified Purchase
Ok for Shoulders & Back
I purchased these for my daughter and as some of the other reviewers commented, they contain acetone and that proved to be too strong for her face and didn't clear it. However, she gets fairly bad breakouts across her shoulders and upper arms and sometimes on her chest. They are too strong for the chest/décolleté as well but worked ok for shoulders/upper back, upper arms. It wasn't a miracle worker and the pads are quite thin. Also, trying to treat large areas with the small, thin pads meant we had to use 2 at a time. For the price, I think they're ok for body acne. We will try the ones from Lovely Skin and some light therapy. LovelySkin Customer
Verified Purchase
Great pads
I've been using these glycolic pads for years upon the recommendation from my dermatologist. Exactly the same pads for a less expensive price. Thank you, LovelySkin, for quality products at a great price. LovelySkin Customer
Verified Purchase