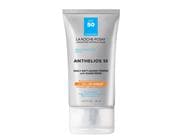 Reviews For
La Roche-Posay Anthelios 50 Daily Anti-Aging Primer with Sunscreen
$39.99
Thick and soothing
This sunscreen feels great in the colder months. it is thick and soothing to dry skin. It also erases the sheen on your skin to give it a matte look. LovelySkin Customer
Verified Purchase
The Best!
Sunscreen and my primer in one! Feels like silk on my skin. I love this stuff! LovelySkin Customer
Verified Purchase
Great product
While I don't normally use a primer, I feel like this product definitely helps my powder foundation have more staying power in the summer heat. It is thicker than the L-P Anthelios sunscreen I normally use, but it hasn't caused a problems for my mostly oily, acne-prone skin. LovelySkin Customer
Verified Purchase
Decent
I have been addicted to using Clearisil to help combat my oily skin. This was my replacement product in my attempt to wean myself off. I was interested in this product because it is supposed to help with oil control, has a high spf, and is a primer. It does not absorb/control the oil as well as Clearisil. However, it does a decent job in priming the skin. I would recommend it because it has a high spf and can just be used by itself if you don't feel like putting on any makeup. LovelySkin Customer
Verified Purchase
Sunscreen and primer in one
Love the La Roche Sunscreens. Glides on and does not feel greasy. Perfect for combination skin. One more great product from La Roche. LovelySkin Customer
Verified Purchase
Loving it so far!
I have used this sunscreen/primer for a week now and really like it. I was looking to skip a step by using a combination sunscreen with primer and this is just what I was looking for. The silicone consistency reminds me of my previous favorite Smashbox Photo Finish primer, but it is a little thicker. It absorbs just as easily as the Smashbox primer and does not feel heavy. Works great and has not make my combination skin greasy or caused breakouts (yet). This works great as a daily primer/sunscreen on workdays. I will use additional high SPF sunscreen (Colorscience mineral powder) on top of this for days that I plan to be in the sun since using such a small amount as a primer would not protect my skin enough from direct sun access. LovelySkin Customer
Verified Purchase
Haven't used it for long, but so far seems good!
I've been using the Anthelios Ultra Light Sunscreen Fluid for a couple of years now, and really like it. When the Anthelios 50 Daily Anti-Aging Primer with Sunscreen came out, I decided to try it as well. I still love the fluid, but this sunscreen primer is nice to have as well. When I don't want to layer a primer over my sunscreen, it's nice to have an all-in-one. I've only used this a few times, so can't comment yet on its ability to absorb oil throughout the day, or it's ability to mattify after some time has passed. I like both products. I love the lightness of the fluid, and it absorbs very easily. The primer version is thicker than my usual primer (Smashbox Photo Finish Light), but once it is smoothed on, I don't "feel" it on my skin. LovelySkin Customer
Verified Purchase
Great product
I expected this product to be make my skin greasy and breakout. I was wrong! This is a great prodcut! LovelySkin Customer
Verified Purchase