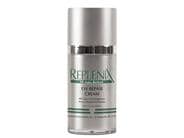 Reviews For
Replenix Eye Repair Cream
Bright Eyes
I have been using Replenix Hyaluronic Acid to give an added boost to my moisturizing regimen. I love the product and its ingredients. I decided to try their eye cream. The peptides, vitamin K, retinol and green tea work to minimize puffy eyes, dark circles and brighten my under eyes. I highly recommend this product, it makes your eyes pop and takes away tired eyes. LovelySkin Customer
Verified Purchase
Better than more expensive brands
I'm repurchasing after almost finishing this product I purchased 1.5 months ago. Very pleased with the results, particularly the diminished crow's feet wrinkles. The moisturizing properties last all day with twice daily use. It has not markedly helped the puffy under eye area which is largely due to allergies. I've used many products in the past which claimed to repair the eye area and didn't deliver. This is my new favorite. LovelySkin Customer
Verified Purchase
Very happy with this product!
I was first introduced to this product from my dermatologist office. They had a beauty skin specialist within their office. She was most helpful in helping me enhance my "aging" skin. Shall we say "replenish" my skin... especially in the under eye area. I have been very happy with the results and thankful to LovelySkin for carrying this product! LovelySkin Customer
Verified Purchase
It's works. Very good results
I have been using it for more than a year, and I have seen very good results, I no longer have dry skin around my eyes ,and my crow's feet are not marked anymore. It also helps a lot to lighten dark circles around the eyes. I recommend it, a bottle of these also lasts a long time. Marieloa
Verified Purchase
Returned to buy more
Always searching out products to keep my eyes youthful and ensuring the surrounding skin remains supple remains a priority and this product brought me back for more. Love the container and hygienic application, too. Youthful57
Verified Purchase
Eye repair
I have used this product before and thought I'd give it another try. Will see in a few weeks! LovelySkin Customer
Verified Purchase
Nice Active Eye Cream
It took my eyes some getting used to, as they were a bit red at first. But that tells me the active ingredients are working. It seems pretty good so far. Long-term use will tell for sure as I'm new to Replenix. Best I've Tried
Replenix Eye Repair Cream is very effective in reducing the appearance of fine lines and wrinkles and small eye "bags." I've tried a number of different eye creams and I have had the most effective results with this one. I use it twice each day (in the morning and evening) and it really does take a few years off of my appearance. Rich ingredients and great moisture
I really like the texture of this cream and the ingredients in it. Replenix eye repair cream is rich and creamy so a little grain is enough for one application. I have dry under eye area and this cream gave me a great moisture. Also I love the packaging, it is easy to use and all ingredients will not lose their efficiency. I hope I will see any results about anti-wrinkle effect but I understand I should wait for it it at least a month. Eye Cream
I love this eye repair cream by Replenix. I love the consistency and it soaks into my skin. I feel the consistency is optimal for my skin which can tend to be oily. Drinkh2o
Verified Purchase
Awesome Eye Cream
I am very impressed with this eye cream, I've been using for 3 weeks and can already see a difference. Great consistency. TFoxGirl
Verified Purchase
Feels like silk
I only got a sample of this and it legitimately feels like I was putting silk on my face. I can't afford to purchase this right now but I absolutely will when I can. It was unbelievable because I have never had my skin feel so soft. I know it is just an eye cream but I smoothed it all around my cheeks too lol! Definitely try this if you can! It's great!
I feel like this really gives my eyes a pep in their step and makes me look more refreshed. A little goes a long way and easy application LovelySkin Customer
Verified Purchase
I like this product a lot
I have been using Replenix's eye cream for 10 days and like it very much. The skin around my eyes looks hydrated and lines are greatly diminished. The cream is light and requires the application of only a tiny amount to work. LovelySkin Customer
Verified Purchase
Excellent nighttime eye cream!
I love this eye cream. It has retinol for cell regeneration, which I really want in my eye cream and is gentle enough to use on upper and lower lids. A little goes a long way and I only use it at night because it is too much for my oily skin during the day. I'm 48 and it has definitely improved the area around my eyes like crows feet. I'm sure this has also prevented/slowed down the appearance of new wrinkles. I would recommend this to anyone and everyone! loyal user for at least 7 years
Calms the skin around my eyes, and creates a nice, matte base for primer and eyeshadow. LovelySkin Customer
Verified Purchase
Replenix Eye Repair Cream
I have noticed a difference in the fine lines around my eyes after using this products for several months. It really helps keep the eye area moist. My make up goes on smoother, & never gets dried looking! LovelySkin Customer
Verified Purchase
Great Product!
I really have seen a difference in the texture under my eyes and also in a lightening of the dark circles after just a few weeks of use. At first, it seemed to cause a bit of skin flaking, but that only lasted several days and was necessary to achieve the improvements. Birdlady
Verified Purchase
Good eye cream
This is my favorite eye cream. I've tried multiple types and this one is more moisturizing and yet still quite gentle. I haven't seen wrinkles diminish yet, but it's only been a few weeks. RhTempe56
Verified Purchase
Excellent product
I've been using eye creams for the past 20 years, and find this cream very moisturizing. The fine lines around my eyes are minimized with the twice daily usage of this divine product. Thanks, LovelySkin, for introducing this product to me as a free sample. It's been my favorite for 2 years. SouthernLady
Verified Purchase
Great night eye cream
I love this retinol based eye cream did night time. It keeps the undereye area firm, bright, and fine line free. Whitney
Verified Purchase
Best eye cream
I have tried many products, and this is the one I always go back using. It is non irritating and does wonders for circles under eyes and fine lines. Love that it had green tea and retinol. Densely Moisturizing
This is a great eye cream for dry, winter eye skin. I love this even better than my other cream I really liked. Big win! LovelySkin Customer
Verified Purchase
Nice Eye Cream
I use this eye cream at night time, and my eyes are less puffy in the mornings when I wake up. I hope this well help with dark circles but will take time. It absorbs very good into the skin. I will keep using it. LovelySkin Customer
Verified Purchase
Creamy and long lasting
I have only used this product for a few short weeks, but I am impressed with the creamy feel of the product, and it lasts all day. LovelySkin Customer
Verified Purchase