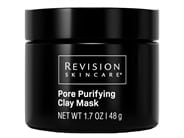 Reviews For
Revision Pore Purifying Clask Mask - 1.7 oz
$48.00
The ONLY mask I use!
I use several Revision products, all of which are excellent. The Black Mask is a favorite! I use it 2-3 times a week, and my skin is clearer and more even toned (in color). I think it fights blemishes and redness. And a little goes a long way....I use about 2 pots per year. You won't regret using this mask! Black Mask
Obsessed with this mask! My pores are noticeably smaller afterwards and it leaves skin super soft. A little goes a long way! LovelySkin Customer
Verified Purchase
Miracle Worker
I've been using this 2 nights a week for about 6 months now and I've seen a noticeable difference in my pore size. My skin feels so clean and de-gunked after every use and it doesn't dry me out like every other clay mask tends to. LovelySkin Customer
Verified Purchase
Black Mask
Absolutely love this mask! Leaves my skin smooth and silky! I use once a week. weekly mask
This is my go-to mask every Sunday. Makes my skin clean and not dry. StaceyO
Verified Purchase
Love this mask!
I purchased this mask based on the recommendation of a dermatologist and love it! I use it once a week and will always have this mask in my skin care routine. Thank you also LovelySkin for the free and fast shipping! LovelySkin Customer
Verified Purchase
Awesome!
Does exactly what it says! LovelySkin Customer
Verified Purchase
Great!!
This is my first time to purchase this mask. It won't be the last time. It's a great product. Keldunc
Verified Purchase
Black mask
This is my favorite, got my girls on it and love love Ksavage
Verified Purchase
I love this mask!
I love this facial mask! My esthetician did this facial mask on me at my last appt and recommended me to use at home too. This mask is great. I can definitely feel and see a difference after I use this product. I can especially see a difference the day after. My face is soft, clear and my pores are cleaned out after doing this mask. I currently use a couple times during the week - I wish I could do the mask more since I love it so much! Definitely a great addition to any skincare routine! LovelySkin Customer
Verified Purchase
Decent mask
I've used a couple of times since purchasing and it's a good mask. Not drying. But the smell is a bit strong Look no further...this is the best mask!
The revision black mask is the best mask I have used. Hanacure was my holy grail for the past year, before my sister began to rave about Revisions Mask. It is a very soothing olive-black mask that you can actually feel getting into your skin, without the irritating over tightening or tingling effects. Very mild. Results - amazing. Once I use a soft wash cloth to gently wash off, then splash to remove the excess, I pat dry, look in the mirror and my skin is baby soft, even toned, pores are hardly visible. It almost looks like my skin of yesteryears where I could just grab a lip gloss and head out the door. This mask is not that expensive compared to others I've tried that haven't produced half of the positive results. Candice
Verified Purchase
Cleans Well
So far so good, only use it once a week and use a silicone brush to apply. LovelySkin Customer
Verified Purchase
Favorite Mask!
This is my new favorite mask, and the only mask I've found that doesn't make my skin itch while wearing it. After applying, I see the effects of it for 2-3 days after. LovelySkin Customer
Verified Purchase
Refreshing!
I enjoy this mask because it feels refreshing both while using and after it is rinsed off. I have not seen any changes in my skin but I like using it. Scubachic5
Verified Purchase
Best Mask
I LOVE THIS MASK, it is amazing great price too! LovelySkin Customer
Verified Purchase
Black mask
Made my skin feel smooth! LovelySkin Customer
Verified Purchase
Clean and pore free
Cleansing Mask! My face feels clean and refreshed after this mask. Wonder mask!!
Introduced to this product by my esthetician to help unclog pores and brighten my skin. Any time I feel that my skin needs some TLC and feels clogged and dull I put this mask on and it works wonders! I think you're supposed to use this more frequently than I do, but as needed works perfectly for me! It goes on like a clay mask but doesn't leave your face feeling super tight and unmovable while waiting for the timer to go off. This product seems to suit various skin types and ages as both my teenage daughter and I use it and have great results! Warning: don't go downstairs with this mask on without a heads up... my husband freaked out!!! LovelySkin Customer
Verified Purchase
Best Mask!!
Love this mask. Really makes a difference in my skin. This brand is all around great! LovelySkin Customer
Verified Purchase
Soft Skin
I feel like this mask makes my skin very soft. I have pretty sensitive skin and don't have any side effects from using it. LovelySkin Customer
Verified Purchase
So Nice
This feels so good. You can actually feel it absorbing into your skin. It is non-drying and leaves skin silky smooth. Black mask
Best mask out there! Sallygirl
Verified Purchase
A really surprisingly good mask!
I have used many masks in the past and I'm never sure if I notice a difference.This mask tingles slightly you almost feel it sinking into you're pores.It dries in a way that's quick and not irritating.It seems to shrinks you're pores leaves a nice mat but glowy sheen in you're skin and feeling very clean.This is a real win! Jennamichelle
Verified Purchase
Good mask
Good mask—skin feels noticeably softer after use but I don't see a big difference in pore size or skin clarity. But, love that it's not super harsh on skin and skin doesn't look red or irritated even immediately after use. A little expensive compared to some other masks, but does last a while. Good for regular use but maybe less so for those looking for a deep cleansing mask. LovelySkin Customer
Verified Purchase