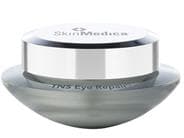 Reviews For
SkinMedica TNS Eye Repair
Eyes Swollen Shut!
Awful allergic reaction to this eye cream! my eyes swollen shut...red..swollen to the point of the inner corners being swollen as well. Lids itchy as well...very bad look! Have to return for a refund but need everyone to understand that this too can happen to them. Be aware... Bad reaction to this eye cream :(
I wanted to love this product like I love all my SkinMedica products. But this one caused a nasty reaction- swollen lids and an eczema like reaction. I worked with my derm and we eliminated everything and added back and this is the culprit. I don't have sensitive skin but this worked badly for me. Hope you have better luck! I wish I could attach a pic.... it ain't pretty! Houstongal
Verified Purchase
Not for me
I was very allergic developing redness and burning and had to send it back. Allergic reaction
Unfortunately I had a strong allergic reaction: I found my face got puffy and resin the following morning with many small red rashes. It took me over a week to recover. It was not for me. LovelySkin Customer
Verified Purchase
Bothered Eyes
I have dry eyes, and this eye cream caused my eyes to burn and sting. I returned it. Redginger
Verified Purchase
Really horrible, terrible packaging
It's clear that the person who designed the jar does not use the product. If they did, they would be as frustrated as many customers are with this jar, and put the under eye cream in a pump. This jar is difficult to open if your hands are not absolutely dry. It is nearly impossible to scoop out the correct amount of eye cream. If you dip out too much of this expensive cream, you've wasted it. It's unsanitary. Every time you dip into the cream, you risk introducing germs into the product. Yuck! I've given the product one star to try to get the attention of the marketing team and to encourage them to re-package the product. Other customers have mentioned the dysfunctional packaging, but no changes have been made. The cream is wonderful—my favorite—but please, put the cream in a pump! LovelySkin Customer
Verified Purchase