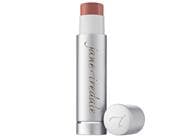 Reviews For
jane iredale LipDrink Lip Balm SPF 15
$17.00
Just Perfect
Perfect combination of moisturizing, sun protection and light tint. LovelySkin Customer
Verified Purchase
So moisturizing!
I stumbled upon this product after receiving a trial sample from my aesthetician's office (associated with a plastic surgeon's office). It has a slightly lemony fragrance to it, but fades rather quickly. It's super moisturizing and the tube lasts a really long time. LovelySkin Customer
Verified Purchase
Love the color!
This is just the perfect amount of color for your lips. Glides on smoothly and conditions lips. I love it! Just sad my mask has to cover it up! PlanOmom
Verified Purchase
Doesn't work for me
Unlike the many five star reviews this product received, I really can't give it much more than one. The color is practically non existent on the two I purchased. For me, the product was no different than a chap stick...at a much higher cost. It is a bit drying, too. I really wanted to like this "lipstick" and was encouraged to get it by reading the other reviews. Maybe I'm just an exception. Sadly, though, not for me. Very moisturizing
This is so moisturizing & gives my lips just a hint of healthy color & shimmer. Lasts a long time! Awful
A strange taste that lingers and which I could not tolerate. Threw it back in the box. The one star is for the decent size but, even still, not worth the price. A good idea would be to remove any and all flavor or scent from this lip balm. Nice color
I love the color of this lipdrink balm. The only thing I wish is that it were a bit more smooth. Works
I am on the fence about this product: Had some issues with the tube not working, the coverage is nice but the feel is off. I am still working on it. The Best
I am sad I am just now finding this stuff! As a self proclaimed chapstick junkie, I finally found the one! It moisturizes, adds just a touch of color, and doesn't dry my lips out after wearing off! I will be buying in more colors! LovelySkin Customer
Verified Purchase
Excellent
Overall a 90 out of 100. Loved it inthbiz
Verified Purchase
Very moisturizing
I like this product because it moisturizes my lips and stays on them for a long time. I can even put it on before I wear a mask and I don't feel it rubs off on it. LovelySkin Customer
Verified Purchase
Great for a natural looking lip
This product is dual purpose because it's a lip balm with a little color and SPF. It's hydrating without being too glossy so it doesn't rub off on my face mask. So happy I purchased it! Teresa1955
Verified Purchase
Creamy lip protection
Very nice product. Wish it had a higher spf. Then I would give it 5 stars. LovelySkin Customer
Verified Purchase
Lip conditioning lipstick :-)
Great new discovery for me! I have a light shade for bedtime and a darker one for day time. The colors are so natural and complementary to my skin tone...plus it keeps my lips soft and dewy! I never want to be without it on my lips :-) LovelySkin Customer
Verified Purchase
I like it
Living in Az where we are breaking all heat records, my lips are always dry. I don't usually wear a lip balm because it feels like wearing Vaseline to me, but I ordered this because of the sunscreen in it and I really don't need lipstick under my facemask! LovelySkin Customer
Verified Purchase
Fantastic lip balm
Keeps my dry lips moist and plump. Wear this every day. Can't go wrong! SPF added bonus. Summer Essential
I love these lip drinks! I've bought three and these will continue to be a staple. They go on smoothly, smell nice, great colors and they have SPF. My go to lip balm. Ckbailey
Verified Purchase
Best Ever
This is a really great lip balm that also smells terrific - like lemons. It goes on smoothly and lasted a while. I am onto my second one. The clear is the one I prefer the best. LovelySkin Customer
Verified Purchase
Great product!
This lip balm is great for everyday wear. Very moisturizing and adds touch of color to lips. Lightweight, but long lasting. LovelySkin Customer
Verified Purchase
Slightly sticky
This lip balm has a nice refreshing scent. But it can be a little sticky. I am unlikely to buy it again. LovelySkin Customer
Verified Purchase
Smooth
I love this lip gloss and have it in three shades. It's very moisturizing. I use the clear at night when I go to bed. LovelySkin Customer
Verified Purchase
Jane Iredale Lip Balm
Love this lip balm! Lipsticks which I used to wear that had SPF 15 are no longer available. What's great about this one it offers color and SPF. I use it everyday while gardening, mowing lawn and relaxing by pool. Think I'll try all the colors. It's great!!! LovelySkin Customer
Verified Purchase
Good product
Pretty color but not as moisturizing as expected. mommabear
Verified Purchase
Hydrating
I have very dry lips. The title of LipDrink intrigued me. I also liked that it's tinted. It lasts a long time on my lips. I like it very much. It's more expensive than I like, so I only wear it when I'm leaving the house for some color. LovelySkin Customer
Verified Purchase
Paying for the name
Disappointed in this product especially for the price. You can find comparable or better products for less. The color (Giddy) is not at all what I expected, it has a weird pinkish cast and the product sits heavy on the lips. I will not repurchase. LovelySkin Customer
Verified Purchase