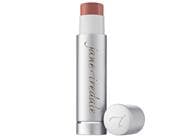 Reviews For
jane iredale LipDrink Lip Balm SPF 15
Great lip balm
This is my favorite lip balm, but the sheer is definitely the most hydrating. The sheer goes on smooth and keeps my lips soft and moist. While I love the color pout, I have found the colored lips balms (I've tried three of the colors) to be more drying to my lips and not as effective as the sheer balm. LovelySkin Customer
Verified Purchase
Moist and Healing
Love this lip balm. Not only does it heal and moisturize, it has good color too. PatriciaEE
Verified Purchase
Jane iredale lipdrink lip balm
Very moisturizing. Natural, soft color. Love it! LovelySkin Customer
Verified Purchase
My newest lip balm
I'm allergic to many of the standard ingredients in lip balms and am always looking for a new one that doesn't cause my lips to chap. This one works well to moisturize and, as a bonus, also has a nice natural tint and light sun protection. The only reason I didn't give 5 stars was I think it may still be contributing to my chapped lips. LipDrink Balm is the bomb!
I use LipDrink Balm quite a bit. I keep one in my car and one in my makeup bag. What I love about it is that it's great for my lips and I can put it on without a mirror. The color is subtle and lasts long. Like it except the scent
I got this balm in Flirt. I love the texture and sunscreen effect but what I'm not so fan of is the scent. It smells pretty strong. It'e like citrus and it kind of bothers me. I also kind of find the color Flirt dull. I use lip pencil with it and my lips look good. LovelySkin Customer
Verified Purchase
Jane Iredale
I love my lip balms, especially this one which is tinted. Pretty color and moisturizing. Almost50
Verified Purchase
Great lip balm
Love all of these lip balms. They go on so smooth and just enough color Good stuff
This lip balm has great staying power as well as super moisturizing to the lips. I bought this in the color Pout, which has a slightly neutral shimmer to it. OnTheMesa
Verified Purchase
Jane Iredale LipDrink Lip Balm SPF15
Lips are protected from the sun with this product. I could use a deeper shade of pink than Flirt. I put it in my cooler next to the ice during a day long jazz festival and it became very soft. It hardened when I put it in the refrigerator the next day. LovelySkin Customer
Verified Purchase
Lip balm
Love it! Just the right amount of tint and my lips feel soft and supple. Thanks Jane ireldale. LovelySkin Customer
Verified Purchase
Jane Iredale Lip Balm
I love the Jane Iredale Lip Balm. Its moisturizing, smells good and had a pretty hint of color. LovelySkin Customer
Verified Purchase
Super moisturizing
This is the first time I have bought Lip Drink. It won't be the last. I find it to be very moisturizing. It adds a bit of color too. I don't even need to use a mirror to apply. It has been great this for the summer. I carry it in my pocket and it is always handy. LovelySkin Customer
Verified Purchase
Pretty but Irritating
I love the color of this product (Crush) and the initial feel. The scent also is not bothersome. However, it causes lasting irritation, with accompanying dryness, that persists long after I have removed the product. I give it 3 stars anyway because I believe this is a sensitivity/allergy issue, and I really want to be able to use it. If it does not irritate your skin, you might love it. SeaBean
Verified Purchase
Lasting moisture.
Purchased the "pout" tint, and it is a natural shade with just the right amount of color for my fair complexion. It is very moist with a very nice fragrance. Highly recommend. LovelySkin Customer
Verified Purchase
Very moist
I like that this lip balm. It protects your lips from getting sunburned while keeping them moist. LovelySkin Customer
Verified Purchase
Lip Drink
I have been using this for many years. It keeps my lips smooth and moist. Love that it is now in a variety of shades to add a little color to my lips. PhyllisC
Verified Purchase
So moisturizing and protective
I love this lip balm. You get wonderfully moist lips, a hint of color that you can also layer over a long-lasting lipstick if you like and non-chemical protection from the sun! This product is a winner. I carry it in my purse always. I purchased Flirt and like it a lot. I may try other colors too. GREAT LIP BALM!
I got Jane Iredale LipDrink SPF 15 Lip Balm, in "Buff". Love this natural-looking shade on my lips and its wonderful citrus scent! It really moisturizes well and protects lips from the sun. Alex369
Verified Purchase
Jane Iredale lip balm
Love this lip balm! It's comfortable to wear and very hydrating. Love that it has sun protection also. I would definitely purchase again. Thank you. Perfect SPF lip balm
I have tried many different SPF lip products over the years, all dried out my lips, not this gem. LovelySkin Customer
Verified Purchase
Moisture extraordinary
I love this lip drink. It's not only a good moisturizer but gives just a hint of color, exactly what I'm looking for. I would recommend this to anyone who has problems with dry lips or doesn't like a real heavy lipstick! LovelySkin Customer
Verified Purchase
Perfection
I love these lip drinks so much I have one everywhere, car, purse, bathroom, jacket... I love the SPF and natural glow it gives your lips. I have the color Flirt. LovelySkin Customer
Verified Purchase
I'm addicted to this!
I buy the sheer and keep tubes of it all over the house and in my car and purse. I live in the desert. This Lip drink keeps my lips from drying and chapping as well as protecting them from the sun with SPF 15. Love this product and have for many years! suzannebyrd
Verified Purchase
Soft and creamy
Love this lip balm. It glides on and really softens my lips. I use it morning and night. LovelySkin Customer
Verified Purchase