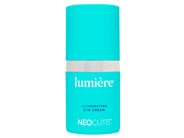 Reviews For
Neocutis Lumiere Illuminating Eye Cream
$97.00
No changes
I have been using it religiously (twice a day) for 4 months. There has been no improvement in my dark circles. Didn't work
This product did not work for me at all I've been using this product for almost a month. And I haven't gotten any results... and it is very expensive... sorry LovelySkin Customer
Verified Purchase
Average
I read so many great reviews that I was convinced this would be a game changer. I was very disappointed. Does nothing - I cannot even consider it as simple as a good moisturizer. LovelySkin Customer
Verified Purchase
Under eye swelling
This causes my under eye to swell, so I wake up with huge bags under my eyes. I bought in June. It takes a couple uses, and then, it swells. It took me this long because I finally introduced it back to my routine to figure out which product was the culprit. LovelySkin Customer
Verified Purchase
Dries my skin
This new one is thinker than the original bottle, I still have a bottle of the older, and so I compared the two because the new one started drying my skin and now my skin feels rough and right after washing, it's also clogging my pores. I'm sure they not only changed the bottle but the formula as well. I'm a fun of the older lotion. Well not really of the bottle because the top pops off really easy but now I guess I would be looking for another face lotion. Overpriced eye cream
No results whatsoever. LovelySkin Customer
Verified Purchase
Neocutis Lumiere Eye Cream (with PSP)
I had high hopes with this product because of the number of positive reviews. I have puffy eyes all the time due in part of my the meds I am taking. I tried a few products to help depuff, but the one that helps a bit was the Obagi ELASTIderm cream and LovelySkin's own brand to some extent. So I tried this product. To my surprise, my under eye puffiness gotten worse. I asked for RMA to return this product. It is not for me. The positive reviews on this product is a hype IMHO. LovelySkin Customer
Verified Purchase
Contains butylparaben
Ive been struggling to keep up with what is good and bad for my body, so Im a little ashamed I missed this ingredient before I recently purchased this product. I have been trying to eliminate harsh chemicals. According to EWG.org "butylparaben" is rated as a 7: moderate to high hazard for Endocrine disruption. I might have to continue to use this product until its empty since it was so expensive and I have no other eye creams at home. LovelySkin Customer
Verified Purchase