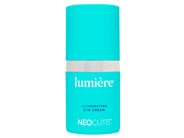 Reviews For
Neocutis Lumiere Illuminating Eye Cream
$97.00
Didn't work for my dark circles
After seeing so many rave reviews for this product, I decided to try it. Sadly it did nothing for the dark circles under my eyes. It did impart a nice tingle and made the skin feel tighter under my eyes, but that in turn also made them feel dry, so I had to layer on moisturizer over top. One positive note, though: the pump gives you a good amount of control so you can dispense only what you need each time. LovelySkin Customer
Verified Purchase
Not for me.
My favorite eye cream was discontinued so I was on the hunt for a new eye cream. My issues is bags -- tiny swollen pockets under my eyes in the morning. My old eye cream took care of the problem. I was anxious to try this -- but after 3 - 4 days, did not notice any difference. Returned it. LovelySkin Customer
Verified Purchase
Too irritating
I found the product was very drying and added wrinkles to my under eye area. Perhaps I was allergic to the product. I tried it a couple of times but no better result. Actually a line available at drug stores does a better job. LovelySkin Customer
Verified Purchase
Sensitive to product
I really wanted to love this product due to the wonderful reviews but my eye area reacted with puffy, swollen eyes. I have extreme difficulty finding eye creams that don't make my eye area worse. Returned and still searching for an eye product that actually addresses aging without side effects. LovelySkin Customer
Verified Purchase
Stung my eyes
I just couldn't use this product without it stinging my eyes. Guess it just isn't for me. I returned it, and LovelySkin was great with that process. Don't like it
Not moisturizing enough Burns
I rarely write reviews but thought I'd share my thoughts on this eye cream because I was so disappointed. I've probably used 1/2 of it and haven't noticed any difference. I don't have many deep lines around the eye area, but I can get pretty dry and puffy at times. This cream seems a bit too light to solve those problems, so maybe the riche cream would have done a better job. However, my main complaint about this cream is that it gives me this intense burning sensation for about 30 seconds to a minute right after applying it. It's so intense that it feels as if my area turns bright red, but it doesn't, it just gets horribly warm and burning. I've noticed that feeling is intensified when I apply a HA serum before. I don't know why, but I've never felt that with any other eye cream. I stopped using it because if this. Just okay
This product has a nice texture, but a lot of it seems to end up in my eyes and is very irritating. I'm hesitant to use it now. I prefer the Teamine eye cream over this. LovelySkin Customer
Verified Purchase
I tried better products!
I was not a fan of this product, but it doesn't mean it wouldn't work for someone else. I tried it and I moved on to another eye care product.
VeeVee44
Verified Purchase
No noticeable difference two weeks in
I'm not sure this eye cream lives up to the hype. So far, no noticeable difference. I follow the instructions and use 2x a day. Hoping to start seeing some results. That being said, a little goes a long way. It is very rich and creamy. LovelySkin Customer
Verified Purchase
No noticeable changes using this product
I used this product several years ago after seeing it at my dermatologist's office. I noticed no changes with this product. It didn't cause any problems, but it also didn't improve anything around my eyes (no softening of crow's feet, no skin tightening effect, no reduction in undereye circles). I had the same result as I would have with just putting regular moisturizer around my eyes. Don't Work!
this cream is expensive and it does not give any results. LovelySkin Customer
Verified Purchase