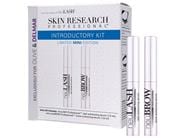 Reviews For
neuLASH/neuBROW PROFESSIONAL™ by Skin Research Laboratories® Introductory Kit
$90.00
51 Results
Stunned!
This product has done exactly what it claimed to do; my eyelashes are twice as long and have gone from blonde to dark brown and my eyebrows have filled in nicely and have gone from blonde to brown. The results were evident right away and after about a month is was a remarkable difference. I stopped using it once for a couple weeks and my lashes and eyebrows returned to blonde and thinned out but as soon as I began using it again they went back to full and brown. Great Product! I will continue to use. LovelySkin Customer
Verified Purchase
Makes my life REALLY difficult...
I rarely had to pluck my eyebrows before using this product. Why? Well, at 52, whatever I pluck never seems to grows back. Now, it seems I'm constantly having to pluck my eyebrows because I have hairs growing EVERYWHERE! I haven't had eyebrows like this since I was a teen. My lashes are thicker than they've ever been. So, thanks, Neulash/brow for making me work constantly to keep my eyebrows groomed and wasting all that money on brow darkening product that I don't need anymore!! How DARE you have a product that works as well as you, and everyone else, says it does??? (btw, I'm totally bs'ing you...you ROCK! LOVE this product!!) This duo rocks!
These are a few of my can't be without products. Especially the brow serum! But both great. Lashes are healthy and pop with mascara and I will NEVER consider microblading again. Highly recommend. Hillary412
Verified Purchase
Lashes and Brows
I have used NeuLash for years. It really makes a difference in my lashes. Now I am using NeuBrow and I love the results. It does what it says
I first received them as a gift, but have re-bought them. They really work. I am 70 years old of course a young 70, I teach exercise to people 30 and 50 years younger than me. My eyebrows re grew and my lashes are longer and thicker. YES... a thumbs up here for me. I had people ask what I did. So far so good
I have been using these daily. It is a little too early for me to see a major difference. I am hoping to get fuller eyebrows and longer lashes. I do like the eyebrow applicator. Pspencer
Verified Purchase
NeuLASH
I've tried out five or six different lash serums over the last couple years and this is my new favorite! LovelySkin Customer
Verified Purchase
Great!
I have been using Latisse for some time. I received an intro kit over the holidays and used it when my Latisse ran out. Oh my goodness! My brows have grown in more than I could of imagined and my lashes are super long. I cannot be happier! LovelySkin Customer
Verified Purchase
Helping!
I've been using this product for almost a month and do notice a difference in my eyelashes and eyebrows. This product definitely helps and I'm the biggest skeptic out there. LovelySkin Customer
Verified Purchase
Product is great and customer loyalty is extraordinary
I was sent this set for free from Lovelyskin for being their loyal customer. I CRIED not because I got something free (of course I was happy); however, I cried because of the Thank You Note that Lovelyskin included with the set for being their Loyal customer. I don't know who created or wrote that Thank You Note, but it was very touching. Seriously touching. For the the product itself, I found them to be effective as long as you are consistently using it. No irritation or itchy. Great product. Thank you again Lovelyskin. Thin brows , shorter eyelashes improved
My eyebrows have been very thin and light for several years. The brow serum has thickened my very thin brows. Wishing they would darken also but am pleased to have thicker brows in about 3-4weeks. Eyelashes are longer and darker. I have to use less mascara and they are certainly longer than I ever remember. It does irritate my eyes some if I'm not careful to keep it just at base of lashes but I have sensitive skin. I would recommend!!! Mrstennis
Verified Purchase
Love it
At first a skeptic, I started using the product in December. Over the next few months I started receiving compliments on the fullness of my lashes. I also noticed my brows had thickened in areas they were once sparse. Great product, non-irritating. Just notice some flakiness on my brows in the morning and sometimes my eyelids are a little rosy, but it didn't bother me. I recently gifted a set to my mom. LovelySkin Customer
Verified Purchase
NeuLash & Brow
I first received this as a gift from LovelySkin and liked it so much, I have ordered some. I have used several different brands to help thicken lashes and brows, and I'll have to say that for me, this works as well if not better than much more expensive brands. Very pleased with this product and I highly recommend! So little product
I think I see a slight difference in my lashes so I ordered a full size. Haven't really noticed a difference in my brows. Wish there was more product. I realize it is an introductory kit but almost not enough there to make a determination. LovelySkin Customer
Verified Purchase
Noticeable Growth!
I've been using another brand I liked but this product surpasses the other. It's nice to have the sampler with both lash and brow. I've noticed my lashes look much longer in a short period of time. My brows are definitely growing in too! Amazing Eye Lash and Eye Brow Serum
I was given this product as a gift. And now, I am addicted and cannot live without it. This serum works wonders, given just one to two weeks, I was seeing drastic results to the lash grow. With the extension of the lash growth, it also helped open up my eyelids, which began drooping due to a genetic trait passed down from my father's family. My eyes look better than ever comparing with photos from two years ago. The Eye Brow Serum also works very well albeit takes more time, about four weeks in my case, to see the result. SnowMommy205
Verified Purchase
incredible
I've used almost every lash / brow serum, including Latisse for a year or longer. The Lash and Brow serum is definitely making a difference, and magically I've been using only for a bout 2.5 weeks. I have very sparse brows and am looking to fluff them before my wedding. Will absolutely re-purchase :) bonjourblair
Verified Purchase
Neulash/brow
Cannot say enough about how wonderful these products are. My lashes doubles and I have start back getting my brows shaped and waxed. I am 58 years old and never had such lashes and brows. Eyebrows are back!
Lost my eyebrows 8 years ago, and they didn't make much of a return after chemo!! I was sent a sample of neulash and neubrow, and I am thrilled with the results in a short amount of time. I have re-ordered for when this runs out. I don't need to pencil my eyebrows in anymore, and my lashes all those still short Are thicker and much darker, I'm satisfied!! LovelySkin Customer
Verified Purchase
Favorite Lash Serum
I've tried many lash serums, but have never been completely satisfied. I received a sample of neuLash and brow and loved it so much I ordered some more! I highly recommend it! Better than the prescription products! LovelySkin Customer
Verified Purchase
Amazing
I received this kit as a gift around the beginning of December. I've used it every day and it is amazing. I was considering microblading for my brows, and now I don't need it. My brows filled in (they were thin for the thin brow trend) and darkened. It did take a little longer to see brow results vs lash results. The lash results are unreal! I've used another prescription strength brand and it didn't work for me at all. My lashes are so long now (and darker) I rarely use mascara anymore. They seriously touch my sunglasses and reach to my brows. I will be purchasing this product. Thank you so much for the gift and introducing me to this product! Worth it
I've used other lash/brow growth products without much success but this was different. I received a sample kit (thank you Lovelyskin!), started using both the lash and brow serums, and couldn't believe the fast results. LovelySkin Customer
Verified Purchase
Definitely worked on lashes
This has worked better than anything I've tried on lashes. If I was reviewing the lash serum separately I would give it 5 stars. I haven't seen a verifiable improvement in my brows, but I'm sticking with it and will update if I get more definite results. It may have helped a little bit, I just can't be sure. But, lashes, YES! NeuLASH/NeuBROW Professional
I had an amazing surprise—the Staff at LovelySkin gifted this product as a birthday promo, so I had the opportunity to try this product! Thank you all. I've used both the since discontinued Jan Marini lash product and Latisse prescription products—NeuLASH is just as good!! Easier to use and less expensive. I ask you to try this product if you have experienced lash shedding or thinning. The NeuBROW seems to be working really well, too. Thank you to the Staff and to Dr. S. for all of your kind and helpful correspondence and thank you again for your most thoughtful gift! P Great & fast results!
I've used the regular NeuLash & NeuBrow products in the past with satisfactory results, like similar competitor brands. But, the "Professional" versions are much better—twice as good !! I use the products every other day with no side effects, just "good" results with longer lashes and fuller brows. Great products. Highly recommend. 5 stars! paristoujours
Verified Purchase