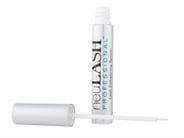 Reviews For
neuLASH PROFESSIONAL™ Lash Enhancing Serum by Skin Research Laboratories®
$90.00
Too early to tell
I have had success in the past with other lash serums. I tried Neulash in past while I still had results from a previous brand, so I am not sure which brand gave me the lush lashes. After reading all the positive reviews I decided to try Neulash once again. It has been three weeks and I have not seen any significant change but I am still hopeful. The downside is the cost. LovelySkin Customer
Verified Purchase
Neulash
I really liked the neulash product. I could tell a difference in my lashes in 2-3 weeks. I am buying it for my sisters for Christmas! LovelySkin Customer
Verified Purchase
Love My Lashes!
This product is easy to put on and works great! Try it, you'll love it! Lengthens your lashes
I received a sample of neuLASH during a holiday promotion along with neuBROW. I was satisfied with the length of my lashes, but decided to give neuLASH a try since I was using newBROW. I have to say that I am so happy with the results. My lashes are noticeable longer now to the point that I do not need to wear mascara. I only use mascara to make my eyes look dramatic for evening looks. I highly recommend this product as it absolutely works. Very Effective for Lenghtening and Making Lashes Thicker
This is an excellent product but it takes a while to realize any improvement. Be patient and you should be very pleased. I would say 3-4 weeks of once daily use before the best results can be seen. I had my lashes permed and tinted and got many complements on how good they looked. I don't even use mascara except on very rare occasions. I am careful to just get the product on the base of the lashes just at the eyelid. It doesn't burn my eyes. Let it dry before using any eye creams. MCDancer
Verified Purchase
Didn't work for me.
I tried using this but it irritated my eyes after the first use. I tried less on the brush and tried to be sure it was only at the base of my lashes. Sadly it still irritated my eyes and caused redness on my eye lids. LovelySkin Customer
Verified Purchase
It works!
I've tried other several reputable medical grade brands and can say this one work as good if not better. My lashes are thicker and longer. Whitney
Verified Purchase
Best lash enhancer
This is by far the best lash enhancer that I have used. I saw results within 2 weeks. Love this product! curlyblondandgra
Verified Purchase
It's a keeper
I've only been using this product a few weeks but I like it and. Can see a small difference. I will keep using as I can imagine the improvement will only get better! LovelySkin Customer
Verified Purchase
Seems to work!
I give it 4 stars because I've only been using the lash serum for about 2-3 weeks now, but my lashes do seem to be getting denser and longer. I've always had sparse short lashes as I've gotten older. I hope this trend continues. LovelySkin Customer
Verified Purchase
Amazing product
My first ever lash serum and I am really impressed. Saw results after 3 weeks. I read the ingredients list very carefully and compared it to other serums. This had the most beneficial ingredients that I read from another site's dermatologist. Biotin, peptides, antioxidants an exfoliant and the very best part isopropyl chloprostenate. Other good things to list like oils and anti inflammatory ingredients. Love it. Absolutely will buy again. I don't think this will last 3 months, a solid 2 for sure. I used it initially on upper and lower lash line but now only on upper lash line. The bottom was getting crazy long. Don't buy this anywhere else as this is the most up to date ingredients from Neulash professional which is a reformulation. Get it at LovelySkin for the most up to date ingredients that work. Womantastic7
Verified Purchase
Miracle Lash!
My lashes have always been quite thin & this product has helped create lots of new growth! LovelySkin Customer
Verified Purchase
neuLASH PROFESSIONAL Lash Enhancing Serum
It's a little premature to fairly evaluate but I'm noticing that my lashes look and feel conditioned and product does not leave my eyes red and irritated. Some lengthening has started in a short time of use so I'm hopeful. LovelySkin Customer
Verified Purchase
Really like it but it doesn't seem to last more than a month~!
It's great stuff and happy that it has been discovered. At first , I was thrilled at the lower price. However, now I am finding that it doesn't last as long as the stuff you used to sell, even though it was more expensive! BasilRose
Verified Purchase
Takes time
Have only been using about a month but can see some results in my lashes getting a little thicker. If you are consistent and give it time the serum does work. This one doesn't make your eye rims red like some others or irritated. Don't see them getting longer just yet. LovelySkin Customer
Verified Purchase
Finally Long Lashes
This product is amazing! I have fine, blonde lashes and this product made my lashes look longer and more noticeable. LovelySkin Customer
Verified Purchase
IT WORKS! Give it a month
I having my eyelashes done every 2 to 3 months for a year. Individual pieces of hair which can take an hour for each eye. Eventually I stopped having them refilled and my lashes were very sparse. Extremely short from the fake lashes and the glue. They looked awful even with mascara. I did some research and tried NEULASH. Worth every cent. I applied in the morning and at night which it says on package just once a day. My eyes did get alittle itchy after the second day so I let up for alittle. Then tried it again. Little itch not anything that bothered me. I wanted my lashes back ...after 3 weeks i seen progress and now a few months later using about x5 a week. My lashes r full. I even had a co worker say my lashes look full and were nice separated not clumpy. And my neighbor and friend asked what I use on my lashes. So it's not just me noticing but other people too!. This product will not disappoint you. Just be patient. Jodi1980
Verified Purchase
neuLash
I have not seen results yet maybe it will take a while I have been using it for 2 weeks oce to two times a day . . Maganda
Verified Purchase
better than Lattisse!
Lash works so well, I just love it! It's less expensive and easier to use than Lattisse and I think causes my lashes to grow longer and thicker! I've actually cut back now to 3x a week to maintain the length. The Brow product is also excellent! Great new products!!! CathyMSmith
Verified Purchase
The EYES have it!
In our new world of mask, we find our eyes as our means of expression. On a FaceTime call yesterday, the other person (who has known me for years) asked if I had lash extensions! Nope, just using neuLASH! Apparently, the difference is noticeable. LovelySkin Customer
Verified Purchase
seems to work
This serum seems to work well. My lashes look longer. Just make sure to use it every day. LovelySkin Customer
Verified Purchase
newlash professional
Neulash Professional is a sound product. My eyelashes are longer and darker so I feel that I don't have to use any lash product other that the Neulash Professional. LovelySkin Customer
Verified Purchase
Who needs mascara? Not me!!
I am blown away by this product! My lashes are long and lush. LovelySkin Customer
Verified Purchase
Results! Results! Results!
My sister recommended this to me as I thought her lashes were fake - they were so long, full, and beautiful! I am excited to see what they look like in a few weeks as I am already noticing results! Do yourself a favor and buy it! RebeccaP
Verified Purchase
terrific product!
It did not take long to see the results of neuLASH. My eyelashes are significantly fuller and longer. I definitely recommend. LovelySkin Customer
Verified Purchase