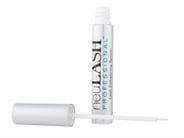 Reviews For
neuLASH PROFESSIONAL™ Lash Enhancing Serum by Skin Research Laboratories®
$90.00
neuLASH
This product is amazing! I never have to wear mascara anymore because my natural lashes are SO long. I will keep buying this product religiously. LovelySkin Customer
Verified Purchase
Makes a difference
This lash enhancing serum really does work. My lashes look fuller and longer. I also use the brow enhancing serum with the same results. Worth it. You need to keep using it though, if you stop your lashes go back to what they were before. pentoni
Verified Purchase
Works well
I have used many lash serums and this one is the best. It seems to be working after 3 weeks. It is also does not cause skin irritation. I will see using. LovelySkin Customer
Verified Purchase
Works!
This is my second one. It is amazing how my thinning lashes have grown. On most days I don't wear mascara now. Works!
I tried this product for the first time it was recommended to me by a lash technician. It starts working in 2 weeks. My lashes are much longer, and stronger! I will use this forever. LovelySkin Customer
Verified Purchase
NOTICEABLY EFFECTIVE
MY OPINION REGARDING neuLASH BROW AND LASH PRODUCTS IS VERY POSITIVE. I HAD PREVIOUSLY PURCHASED A TRIAL SIZE AND UNLIKE SOME OTHERS I HAD TRIED IN THE PAST, THERE WAS NO IRRITATION OR EXCESS OF PRODUCT COMING FROM THE APPLICATOR. DEFINITELY WILL CONTINUE USE. LEENDNATURAL
Verified Purchase
Longer and Thicker Lashes
My lashes are okay naturally, not great but decent. After using this nightly for several weeks, they are noticeably thicker and LONGER. I was a bit skeptical, having tried one other product that didn't do anything. This is well worth using and I will continue to do so. LovelySkin Customer
Verified Purchase
Daily use paid off!
This serum was a gamble, but I just purchased my second tube. This stuff WORKS!!! I have been using daily for 2 months now, and I see a big difference. I have sensitive skin/eye area, and initially felt a little itchy around the area for a couple applications, but no reaction formed, and I have no issues using it anymore. HIGHLY RECOMMEND!!! LovelySkin Customer
Verified Purchase
Lashes
Tried other products but always come back to this one. It works the best for me. Bigger difference than any other brand. Too early to tell
I have had success in the past with other lash serums. I tried Neulash in past while I still had results from a previous brand, so I am not sure which brand gave me the lush lashes. After reading all the positive reviews I decided to try Neulash once again. It has been three weeks and I have not seen any significant change but I am still hopeful. The downside is the cost. LovelySkin Customer
Verified Purchase
Really works
I have tried several lash serums and neuLASH has given me the quickest and best results. Worth the $$$ Gracie11
Verified Purchase
Neulash
I really liked the neulash product. I could tell a difference in my lashes in 2-3 weeks. I am buying it for my sisters for Christmas! LovelySkin Customer
Verified Purchase
Love My Lashes!
This product is easy to put on and works great! Try it, you'll love it! Lengthens your lashes
I received a sample of neuLASH during a holiday promotion along with neuBROW. I was satisfied with the length of my lashes, but decided to give neuLASH a try since I was using newBROW. I have to say that I am so happy with the results. My lashes are noticeable longer now to the point that I do not need to wear mascara. I only use mascara to make my eyes look dramatic for evening looks. I highly recommend this product as it absolutely works. Very Effective for Lenghtening and Making Lashes Thicker
This is an excellent product but it takes a while to realize any improvement. Be patient and you should be very pleased. I would say 3-4 weeks of once daily use before the best results can be seen. I had my lashes permed and tinted and got many complements on how good they looked. I don't even use mascara except on very rare occasions. I am careful to just get the product on the base of the lashes just at the eyelid. It doesn't burn my eyes. Let it dry before using any eye creams. MCDancer
Verified Purchase
Didn't work for me.
I tried using this but it irritated my eyes after the first use. I tried less on the brush and tried to be sure it was only at the base of my lashes. Sadly it still irritated my eyes and caused redness on my eye lids. LovelySkin Customer
Verified Purchase
It works!
I've tried other several reputable medical grade brands and can say this one work as good if not better. My lashes are thicker and longer. Whitney
Verified Purchase
Best lash enhancer
This is by far the best lash enhancer that I have used. I saw results within 2 weeks. Love this product! curlyblondandgra
Verified Purchase
It's a keeper
I've only been using this product a few weeks but I like it and. Can see a small difference. I will keep using as I can imagine the improvement will only get better! LovelySkin Customer
Verified Purchase
Seems to work!
I give it 4 stars because I've only been using the lash serum for about 2-3 weeks now, but my lashes do seem to be getting denser and longer. I've always had sparse short lashes as I've gotten older. I hope this trend continues. LovelySkin Customer
Verified Purchase
Amazing product
My first ever lash serum and I am really impressed. Saw results after 3 weeks. I read the ingredients list very carefully and compared it to other serums. This had the most beneficial ingredients that I read from another site's dermatologist. Biotin, peptides, antioxidants an exfoliant and the very best part isopropyl chloprostenate. Other good things to list like oils and anti inflammatory ingredients. Love it. Absolutely will buy again. I don't think this will last 3 months, a solid 2 for sure. I used it initially on upper and lower lash line but now only on upper lash line. The bottom was getting crazy long. Don't buy this anywhere else as this is the most up to date ingredients from Neulash professional which is a reformulation. Get it at LovelySkin for the most up to date ingredients that work. Womantastic7
Verified Purchase
Miracle Lash!
My lashes have always been quite thin & this product has helped create lots of new growth! LovelySkin Customer
Verified Purchase
neuLASH PROFESSIONAL Lash Enhancing Serum
It's a little premature to fairly evaluate but I'm noticing that my lashes look and feel conditioned and product does not leave my eyes red and irritated. Some lengthening has started in a short time of use so I'm hopeful. LovelySkin Customer
Verified Purchase
Really like it but it doesn't seem to last more than a month~!
It's great stuff and happy that it has been discovered. At first , I was thrilled at the lower price. However, now I am finding that it doesn't last as long as the stuff you used to sell, even though it was more expensive! BasilRose
Verified Purchase
Takes time
Have only been using about a month but can see some results in my lashes getting a little thicker. If you are consistent and give it time the serum does work. This one doesn't make your eye rims red like some others or irritated. Don't see them getting longer just yet. LovelySkin Customer
Verified Purchase