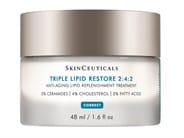 Reviews For
SkinCeuticals Triple Lipid Restore 2:4:2 Anti-Aging Cream
$128.00
I really wanted to like this
I love SkinCeuticals and use other products daily (C E Ferulic, AGE Eye Cream) but this one made my skin burn and peel after using it. It burned going on, and my skin would peel the next day. I tried it a few times with a week off in between to make sure the issue was this cream and it just keeps happening. Should have listened to the other reviewers and regret this buy. LovelySkin Customer
Verified Purchase
Expected to love it
Having used several SkinCeuticals products including the A.G.E. moisturizer and loved them, I expected this to be the same. But apparently I am allergic to this one, which is highly unusual for me. My eyes burned, my skin burned, and I had to wash it off within an hour and use eye drops to soothe my eyes. Within 20 minutes, all was fine. Tried again after a few days, using overnight this time, but same thing happened. Unfortunately I had discarded the box since I never anticipated any problems, so it's not returnable. LovelySkin Customer
Verified Purchase
Disappointed
This lotion burned my skin. After looking at the ingredients, there are several essential oils in it that I don't think my skin liked. I have sensitive skin, which it indicates it would be okay for but not for me. LovelySkin Customer
Verified Purchase