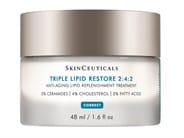 Reviews For
SkinCeuticals Triple Lipid Restore 2:4:2 Anti-Aging Cream
$128.00
Nice nighttime cream
This cream has worked pretty well for me. However, I don't look forward to putting it on. It has no smell and the texture is somewhat thick. It's expensive and it doesn't feel like a luxury product. I have seen some improvement in my skin. LovelySkin Customer
Verified Purchase
Neutral opinion
I've used this in the past and thought it was ok but I didn't see much improvement. LovelySkin Customer
Verified Purchase
It works well but I'm not blown away
I have dry skin and keep trying different nighttime moisturizers in the hope by morning my skin will not feel dry again. This works well, and is better than others I've tried but I often still feel like I need to moisturize in the morning too. Perhaps it's inevitable with my skin? LovelySkin Customer
Verified Purchase
Nice Feel
This cream feels great on the skin without being greasy. I can't say that it has reduced my wrinkles yet (I am 62) but my skin does feel smoother and softer. LovelySkin Customer
Verified Purchase
Saved my skin this winter
I can't imagine getting through this winter without this. It's made my skin supple and smooth. Worth it!
The jar of cream is big so it last much longer then the big name jars. It seemed magical at first, lifting sags & wrinkles. It works hard for the brown spots. But sadly even with using it twice daily most of the wrinkles are back. Works great on the neck. I will purchase it again as my skin is much softer now. Sunworshiper
Verified Purchase
Dewey!
I've only used it for about 2 weeks so too early to tell if it helps with fine lines, even complexion, plumping etc but it sure works for dry skin. Goes on smooth and stays moisturized. I'm happy so far but too pricy for just a moisturizer so hoping for more results on fine lines and everything advertised. Thick and Moist
Love the Triple Lipid cream. I am in my mid 50s and skin gets extremely dry with Retin-A 3 times a week. My face feels smooth and moist using this cream 4 times a week, alternating with the SkinCeuticals A.G.E. Interrupter cream. I had been using SkinCeuticals for about 4 yrs now, it is my recommended skincare brand. LovelySkin Customer
Verified Purchase
Works really well
I use several SkinCeuticals serums, every night, alternating every other day and I love my results over time. But I still needed something to add moisture after the serums were absorbed but hesitant because everything I have tried felt sticky or oily soon after applying. I decided to give this a try about 3 months ago and so far very pleased. I use just a small amount, that's all it takes and am now seeing an improvement, especially on my cheekbones which can have some redness. I hope the improvements continue, I would like to see a little more over time LovelySkin Customer
Verified Purchase
Triple Lipid Cream
I love this cream especially in the colder winter months. it is thicker in structure and gives great nourishment to my skin. 4 stars as it is quite expensive, but I love that you can use it both day and night Really rich
I was looking for a moisturizer that is rich enough to keep my skin from drying out without being too greasy. This works great. A little pricey though. LovelySkin Customer
Verified Purchase
SkinCeuticals Triple Lipid Restore 2:4:2 Anti-Aging Cream
Great nighttime moisturizer, I use it after H.A. Intensifier and my retinol. Love the way my skin feels the next morning. I gave 4 stars wishing it was in an airtight container instead. LovelySkin Customer
Verified Purchase
My winter cream
I really like this cream. I no longer have dry skin. Even in the winter. My skin is reactive, so it tingles when I first put it on, but there is no redness and the tingling subsides. LovelySkin Customer
Verified Purchase
Good Nightime Moisturizer
I received a sample, which I enjoyed very much, so decided to buy it. I'd say the short term results were better than the long term. My skin is more hydrated using the NeoStrata Active Dermal Replenishment than this, so I will go back to that, especially considering how pricey this is. I use it over my Retin A at night. Good for dry skin
After using the cream for 2 weeks, I noticed my skin is glowy and with very few flaky dry spot due to retinol usage. LovelySkin Customer
Verified Purchase
Nice cream but nothing special
This is a nice cream but I wouldn't rebuy it don't think it's worth the price. LovelySkin Customer
Verified Purchase
Great Product
This is a great product that once applied immediately brightens skin returning a healthy glow to the face. It is non oily and provides moisture for the entire day. I took one star off only because of the hefty price tag. It is very very expensive for the amount of product. LovelySkin Customer
Verified Purchase
Verdict Is Still Out
I have not noticed any changes after using this product for about a month. I use many SkinCeutical products in my skin care routine and love the product line. Perhaps it's too soon to see any significant results. I do like the rich texture of the product and the moisture it provides. I use this as part of my nighttime regimen. LovelySkin Customer
Verified Purchase
Moisture full
I found this product to be hydrating. Have taken off one star because I feel it leaves my akin slightly oily at times. Although I use little. This jar definitely lasts a long time! Very Moisturizing.
I actually bought this for my neck because I liked the ingredients It goes on smoothly and does moisturize my neck well. I used it morning and night , and it was hydrating enough for night time use. It seems to have made my neck look smoother….but I don't think it made a big difference on my neck lines. I like to switch out my products all of the time. I do like the product but I'm going to purchase a cream that is specifically for the neck. Very soothing
I use this cream twice a day on my face and neck. It really does sooth my dry skin. The cream is very thick but will soak in after a few minutes. I do feel that it is improving my skin especially my neck area. That 5th star is on hold due to the high price point. PlanetElena
Verified Purchase
SkinCeuticals Triple Lipid Restore
Takes a while to dry on my face, but I do think it's helping my wrinkles. LovelySkin Customer
Verified Purchase
Love But Too Expensive
I've had my eye on this one for a while and finally decided to purchase it. The price kept me away for so long. This 2.4.2 moisturizer is WONDERFUL. I used all of it and want to purchase more, but it's the price, once again... It's too high for the amount of product you get. Heavy Cream
I love SkinCeuticals products, this one is the first one I've ever had a disappointment with, I just don't think it's right for my skin type- which right now in summer is more normal to oily. I believe it did cause a slight breakout because it is too heavy for my skin. I'm going to save this for winter and hope I can use it up then as I hate for it to go to waste, I much prefer the A.G.E moisturizer of theirs over this one. Great night cream
Rich, not greasy, great moisturizer for nighttime. Might be too rich for day wear - except in winter? LovelySkin Customer
Verified Purchase