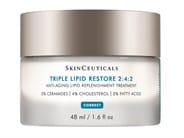 Reviews For
SkinCeuticals Triple Lipid Restore 2:4:2 Anti-Aging Cream
$128.00
Thick hydrating cream that's not heavy or greasy
I really want to love this product but unfortunately I found the essential oils in this just irritated my skin. Overall it's thick hydrating cream that's not greasy or to heavy. It's great if your skin is dry or you need some barrier repair. Wish they got rid of the essential oils in it. Cosmoastro
Verified Purchase
Mixed results so far
This is mostly a non-greasy cream that soaks in nicely though I've noticed it does make my bangs get oily. I bought it for the advertised skin tightening effect and don't see a tremendous result yet. I've only used it for a few weeks and know it can take a couple of months to see results so am hoping my lines will improve with continued use. Meanwhile, it moisturizes my skin nicely which is important as I live in a very dry climate. LovelySkin Customer
Verified Purchase
It feels very nice in the skin
This is very good moisturizer, but I haven't noticed any additional benefit compared to other moisturizers that I used in the past. Not for all dry skin types
I thought this would be a great option for my skin which tends to be Im the dry side as I age. However I also live in very humid weather and am prone to breakouts at times, and this made me break out in like nothing else I've ever used. Wanted to love it and I'm sure it works great for the right skin type but if you were a combination skin that now tends to run dry, this may not be the product for you. LovelySkin Customer
Verified Purchase
Too pricey for me
This was a nice sample product but I found it too pricey for me to want to purchase a full size. There are other moisturizers out there that do the trick without the high price. Irritating & drying
I really, really wanted to love this cream. However, it burns when used around my nasolabial folds & neck. When I wake, my neck is slightly inflamed. It's quite possible I'm allergic to an EO used in this product (peppermint?). I've tried it on multiple occasions while using different products to see if it lessened the adverse reactions. I'm bummed because this is quite an expensive product to toss. Review of SkinCeuticals Lipid 2:4:2
Not worth the price. I will never buy from this company again. High prices and my skin looks the same. LovelySkin Customer
Verified Purchase
Please remove the essential oils
This lightweight cream applies nicely and keeps my skin very soft instantly. To me, it is not enough for days of retinol/acid use when I have to layer moisturizing serum beneath it. It would have been perfect if not for the ESSENTIAL OILS in it. I noticed the lavender scent and found that there are lavender, peppermint oil in it. I am worried about these ingredients irritating my skin in the long term. This is a pricey product from a ''scientific'' company and should not contain such unnecessary ingredients. LovelySkin Customer
Verified Purchase
Great for winter and dry skin, pricey for what it is
This is a nice product for winter months and drier climates. I've also used post laser procedure. It's a thicker texture and not suitable for my oily skin in summer months. Two stars off for the price, as I suspect you can find an equivalent product for less- there are several drugstore finds with ceramides. Not sure I'd buy again. LovelySkin Customer
Verified Purchase
I want to like it more
I really want to like it more as feels great going on, but I felt like it sat on my skin and didn't do much. I honestly think I will be coming back to try this again in 10 years - but at the moment, it's just too much for my skin - it looks shiny all the time. Scent doesn't bother me - but I can see how it could others. Strong Eucalyptus odor
Product glides on easily and is so smooth. Skin really feels soft after the first application. It has a strong eucalyptus odor that is so overpowering it clears my sinuses. Won't try this again. Triple Lipid Restore
Product is great for hydration, but too thick and heavy feel. Carolina2366
Verified Purchase