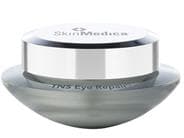 Reviews For
SkinMedica TNS Eye Repair
Great results
I have been using TNS eye repair for three weeks. I have noticed lightening of the skin under the eyes as well as tightening of the skin below the eyes. I am impressed with this cream. LovelySkin Customer
Verified Purchase
Must Buy
I have been using this product for two years now and I would not do without it. It eliminates fine lines and puffiness around my eyes and makes my skin look bright, young and healthy! LovelySkin Customer
Verified Purchase
Best eye cream
I am pretty faithful to the SkinMedica line and for a reason - I get complimented often on my skin and told I don't look my age (almost 50). This eye cream hydrates without being heavy or causing milia under my eye, which some other creams do. Highly recommend! JMill72
Verified Purchase
Worth the Money
This the best eye cream I've tried and continued to use. Maybe it's wishful thinking when I look in the mirror but the crépie and wrinkled areas around my eyes appear softer. For me, it works best on the mosaic type of wrinkles, not the deeper character laugh lines. I have not experienced any eye irritation with either day or night application and it accepts under eye concealer without any problems. This product is on my auto reorder list. LovelySkin Customer
Verified Purchase
Must Have for Eyes
I have been using this product for a couple of years and it works so well reducing fine lines and perking up your under eye area! You don't need to use much, so the product lasts longer than you would think. It's one of my essentials. LovelySkin Customer
Verified Purchase
Younger looking eyes
Magic eye cream adds moisturizer repairs skin around eyes. Firmer look IMG eye area JDslady
Verified Purchase
Break out
I have very sensitive skin and this caused me to break out around my eyes I was really wanting to love it. I did really like the consistency of the the product. Maybe not meant for sensitive skin . LovelySkin Customer
Verified Purchase
Wonderful then No good
Product started out great! Really noticed a difference but as I got towards the end of my first year with it I started breaking out around my eyes - figured it was getting old or got contaminated so I threw it away and bought a new bottle. But now with the new bottle I'm still breaking out around my eyes - disappears when I take a break from this product. So disappointed! Sharing so others don't make the same mistake and buy another bottle like I did! LovelySkin Customer
Verified Purchase
Great eye product!
I love this eye cream for many reasons. I have been using it for about a year and I have noticed some improvements in my under eye area. I like that it has the growth factors along with peptides and antioxidants. I wish it could be used in the upper lid. I highly recommend this product. LovelySkin Customer
Verified Purchase
Absorbs well
Pros: The cream absorbs well into my skin and does not leave a shiny residue like some other creams I have used. There is so much cream in the container that it is worth the price, and the container will last me for a really long time. Cons: I've been using it for about a month and I don't notice any difference in the appearance of of the skin around my eyes. LovelySkin Customer
Verified Purchase
Love this product
I've tried so many eye creams, but I always end up coming back to this one. Ultra hydrating and not sticky at all. LovelySkin Customer
Verified Purchase
Noticeable Difference
While I have only been using this for a few weeks, I did notice a different after only one week of nightly use. Week two, I used in the morning and at night, noting a more dramatic difference. I think this eye treatment is well worth a try, if after just two weeks a difference is visible. Skeptical
Verified Purchase
Great Eye Cream
This was my first time purchasing the TNS eye cream and I was not disappointed! I've been using other SkinMedica products for several years and am a fan. The eye cream is extremely creamy and rich which eases application to the eye area, reduces the appearance fine lines and keeps that area very hydrated. And a little goes a long way which makes it economical! LovelySkin Customer
Verified Purchase
Love it
My boss and I both love this cream. LovelySkin Customer
Verified Purchase
Helps me with fine lines
Love SkinMedica! They eye repair is wonderful. Soft and silky and does the trick. SkinMedica TNS Eye Repair
My first time trying this. I love SkinMedica and I am sure I will love this one too. A little dab goes a long way. Eye Repair
I can tell that my fine lines are less prominent when I use this product. LovelySkin Customer
Verified Purchase
Another banger
SkinMedica's products knock most out of the park. I have tried many eye creams. After a dermatologist recommended SkinMedica products to me (specifically TNS serum). Given the effectiveness of said serum, I decided to give the eye cream a shot and I have not looked back. I am 32 with fairly good skin. Was beginning to notice elasticity loss and under eye + smile line formation. The combination of the serum and eye cream have targeted these issues- yes, a dab of eye cream on the smile lines works wonders. SkinMedica is not cheap, but well worth the price AnnetteB
Verified Purchase
Eye cream that repairs and moisturizes!
This eye cream helps keep the skin around my eyes moist and reduce fine lines! I use just a small amount each night for big results! Gigi3boys
Verified Purchase
TNS Eye Repair...
I love this product! I have been using it for two weeks and I already see a difference. The area around my eye is getting firmer and I see fewer wrinkles. ToryAllyn
Verified Purchase
Skin Medica TNS Eye Repair
After turning 60, I constantly felt like my under eye area stayed dry. I started using the TNS eye repair and had great results. 544smile
Verified Purchase
Now I understand the hype
I am very skeptical of eye creams, but this eye cream really delivers. I have genetically dark under-eye circles, which are exacerbated by seasonal allergies and/or lack of sleep and sometimes make me look like I'm ill or have a black eye. Could an eye cream really improve this problem? I doubted it and at most hoped it would provide some hydration. WOW! I was completely wrong. In addition to hydrating my under-eye, this cream actually made my dark circles less visible to the point where I no longer feel compelled to wear under eye concealer. It doesn't irritate my contacts, and when I wear makeup, it doesn't cause my makeup to run or separate. I strongly recommend this product to anyone looking to banish dark circles. LovelySkin Customer
Verified Purchase
Over a year of perfection
I was referred to eye repair by my dermatologist and quickly saw a difference from other eye repair products Glorious1
Verified Purchase
Visible improvements to my eye contour area
I have been using this nightly for a little over 2 weeks. It is nicely moisturizing without being heavy or overly emollient. The skin around my 40 year-old eyes seems firmer and lines are visibly diminished. I don't feel that it has done anything in regards to dark circles or puffiness, but it has not made those issues any worse (I sometimes find too-heavy eye creams can exacerbate puffiness). Also appreciate that it is fragrance free, which is not always a given with SkinMedica products. I feel optimistic about continued improvements with ongoing use, and will likely repurchase when my supply begins to run low. FairLady
Verified Purchase
Best eye cream!!
This is by far the best eye cream I've used! I can already see a reduction in fine lines and I think it helps with the bags under my eyes as well. I have sensitive skin, especially at the outside corners of my eyes, often times eye creams will sting or make my eyes water, this doesn't do that. taryneileen
Verified Purchase