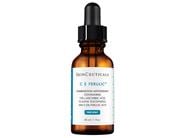 Reviews For
SkinCeuticals C E Ferulic Antioxidant Serum
$166.00
1,234 Results
love this product
I use this daily under moisturizer. It was recommended by a dermatologist. A little goes a long way. LovelySkin Customer
Verified Purchase
Brighter Skin
It took a few consistent uses but then I really started to notice the results. My skin felt softer and so much brighter. I loved it so much I bought one for my mom. I would highly recommend it! LovelySkin Customer
Verified Purchase
CE Frulic
Love this product. Gives your skin a nice glow. LovelySkin Customer
Verified Purchase
So Far So Good!
I'm in my early 30s. I've always had oily, acne prone, sensitive skin. I stopped taking hormonal contraceptives about 2 years ago, and my skin has been changing. I now have dry patches, and have noticed more fine lines, but I'm not breaking out as much. I normally wouldn't try many products on my face, because they almost always seemed to end up causing a breakout. I started getting facials recently, and am making more of an effort to take care of my skin. I have some sun damage, and this is where I hoped the CE Ferulic could help. I've been using it about a month now. I haven't had any adverse reaction. I do think my skin is slowly starting to look brighter. It does have a metallic smell, but that goes away quickly once I apply it. My only negative for it would be that I feel like it stays tacky for awhile, after applied on a bare face. I get impatient waiting on it to dry, and usually put moisturizer on soon after applying. The result is that I have to blot more often. LovelySkin Customer
Verified Purchase
Noticed a big difference!
I've been using vitamin C products for about 2 years now, first the Paula's choice serum and most recently the Revision 30% cream. I really liked the revision cream but this serum is so widely loved I decided to give it a try. I don't love the texture, but I am very impressed with the results I've seen since switching to this. I've only been using it for a month but I've already seen more radiant skin and areas of hyperpigmentation have started to fade. I'm impressed and will likely purchase again. The bottle seems like it will last quite a while-- I've barely made a dent in it after a month of regular use. Kateydid
Verified Purchase
no visible results
I just finished my first bottle of this. I have read that Vitamin C is one of the few ingredients with real science behind it so I'm sure it was beneficial, but my own reality is that I saw no difference in the appearance of my skin. I already use a retinol 1.0 and moisturizer so I didn't expect a difference with fine lines like others experienced, but I had hoped for lightening of brown spots. At this price I like to see visible results so I think I will experiment with some other products. Best skincare product
SkinCeuticals C E Ferulic is the best skincare product I have ever used. I have been using it as my facial serum for the past 14 years. It reduces my skin breakouts and makes my skin look more radiant and smooth. I get compliments on how young my skin looks all the time. I've tried many different products/brands. I think this is also better than Skinceuticals PHLORETIN CF for me. LovelySkin Customer
Verified Purchase
Effective Exfoliator
I am older middle age and use a retin product at night and CE Ferulic in the morning after cleansing the skin, which (for me) results in good daily exfoliation and a nice sheen to the skin on my face. The proof is in unexpected compliments on my complexion To maximize benefits and minimize product loss, I apply by dropping CE Ferulic on the backside of one hand, then use that to spread over my face. I then rub that hand''s backside with the other hand''s backside to add benefits to the skin on my hands as well as the face while allowing all areas to dry and absorb the serum before adding any other products. LovelySkin Customer
Verified Purchase
SkinCeuticals C E Ferulic
Love this Vitamin C Serum. Improves,moisturizes and brightens my skin. I use together with SkinCeuticals Hydrating B3 GeI LovelySkin Customer
Verified Purchase
Excited to have full bottle!
I received this as a sample from LovelySkin a few months ago and loved the product. Have been waiting for the Thanksgiving sale to purchase and get all the bonus products. It has a funny smell, but is not at all off-putting. I could tell a difference in my skin smoothness and clarity from just the sample. Very happy to try full bottle. LovelySkin Customer
Verified Purchase
I will order again
This serum feels good on my skin and it makes it brighter. This is my second bottle and I will continue to use it as part of my skin regimen. LovelySkin Customer
Verified Purchase
The Bomb!
Love this stuff. My complexion looks better and fresher with SkinCeuticals C E Ferulic. The serum absorbs fast in the skin. A must have before makeup or by itself. LovelySkin Customer
Verified Purchase
Amazing Product
Within the first week I started using SkinCeuticals CE Ferulic, I noticed a firming of the skin on my face. I was amazed! I faithfully apply it every day and have noticed a lessening of the appearance of wrinkles and a slight improvement in the brown spots on my face which I have had for many years. I also want to say that LovelySkin is the absolute best place to buy products! They offer many sales, cash back, free samples and fantastic customer service. Additionally I have complete confidence that their products are 100% authentic. LovelySkin Customer
Verified Purchase
Must Have Product
I waited 3 months to write this review because I wanted to make sure I gave the product a full chance to work. I can now say without a doubt that I absolutely love SkinCeuticals C E Ferulic. My skin glows when I use it. I was looking for a vitamin c product that contained over 15% vitamin c in the L-ascorbic acid form, and was formulated with a low pH. This is what is required for vitamin c products to truly be effective, and SkinCeuticals C E Ferulic fits the bill. I was originally concerned about the packaging (oxidation of the serum due to air exposure). However, I have not noticed any color change that would indicate oxidation, and my skin still glows as much now as it did the first week. Some users may have an issue with the smell. It does dissipate quickly, and scent honestly doesn't matter to me in skin care products. As far as wrinkle reduction goes, I honestly can't say for certain - because I began using it at the same time I switched to 0.05% tretinoin, and both products are supposed to reduce fine lines and even skin tone. I can say that my fine lines have almost completely disappeared. I used to have naso-labial lines beginning to form, but they're gone. Most days the fine lines on my forehead are only noticeable if I search for them. I use this serum every other day, but am honestly considering using it daily because of how much I can tell my skin glows the days I wear it. It has lasted 3 months and I still have plenty left in the bottle, so even though it is expensive up front it does last a long time. I use anywhere from 4-6 drops a day to cover my face and neck. I should note that I have combination skin, made a bit dry because of the tretinoin. The serum works perfectly for my skin type. This product is an integral part of my skin care routine. Considering how happy I am with my skin, I will continue to use it and highly recommend it to anyone looking for a good anti-oxidant product that will make their skin glow. LovelySkin Customer
Verified Purchase
Skinceuticals CE Ferulic
I've used this product for a few years now. My skin looks great! I also put a little on the backs of my hands. I'm 58 and have NO brown spots. LovelySkin Customer
Verified Purchase
Love this stuff!
There is a visible difference in my skin and I love that my skin is getting vitamins. I glow 😊 LovelySkin Customer
Verified Purchase
Hands down, the best
I have tried several different brands of C serums and this one is the best. I come back to it every time and have been using it for over 10 years. It is expensive but many times there is a discounted price and that's when I buy it whether I need it at the time or not. I also store it in the refrigerator and just refill the small sample size bottles as needed. LovelySkin Customer
Verified Purchase
Sometimes perfect, sometimes not
Consistency is key when continually purchasing a product that cost this much money. Quality is important. This product does bring results and is high quality for the most part, my only concern is sometimes the color looks darker or the smell is stronger. Who knows. As long as LovelySkin will keep up their excellent customer service and replace when not up to normal standards, I will continue to purchase. It is just inconvenient at times due to the manufacturer, not LovelySkin. LovelySkin Customer
Verified Purchase
Works great!
This is a wonderful product that truly works when used over time and with a good sunscreen. Took off one star for the smell. Sadiedog
Verified Purchase
Love it!
I have noticed a big change in my skin, and a lot of people compliment me on my skin and can't believe I am 48 yrs. old with this as part as my morning regimen. It's worth it! LovelySkin Customer
Verified Purchase
Please don't stop carrying this stuff!
I have been using this stuff for a little more than a year now I think and I have received so many compliments on my skin. It is brighter and wrinkles appear finer. I do use the Skinceuticals B5 serum afterward followed by their sunscreen. Without the B5, it is too drying for me, but I love the combination! As others have said, it does smell like hot dogs, but that does not bother me enough to switch. LovelySkin Customer
Verified Purchase
Must have
I've used this stuff for several years. My skin was clear, bright & evened out, glowing & soft & my pores were smaller. I stopped using it for awhile & I've noticed that my skin looks dull, uneven & there's a lot of hyperpigmentation. I just reordered it & I can't wait to it arrives & I can start using it again. This is a must have in my routine. LovelySkin Customer
Verified Purchase
Does what it claims!
This is a must have product for me. It really does protect your skin. You will notice a glow and firming after continued use. I use it right after cleansing every morning under sunscreen and makeup. It is worth every penny! LovelySkin Customer
Verified Purchase
It's so awesome
My skin has become much smoother. I've only been using it 2 weeks so I haven't seen my skin tone change any more but I hope it will brighter. LovelySkin Customer
Verified Purchase
AMAZING.!!!
I love this product, not only does it make my skin glow, it also seems to tighten the pores. It also seems to make my skin look more hydrated and lines around the eyes seem less noticeable. I have not found a better product!!! LovelySkin Customer
Verified Purchase